A holiday recognizing the end of slavery and celebrating African-American culture ⇔ 
Holiday: Juneteenth

©2021 Michael Krigline, MA 
Underlined terms are explained in the vocabulary section below. Note to teachers: This "longer" article would work well in a class about American history & culture; for a "conversational English" class, you might prefer the "shorter" version linked here.
Juneteenth (June 19) is a US federal holiday recognizing the end of slavery and celebrating the achievements, sacrifice, and culture of people with African ancestry. On June 19, 1865, just after the US Civil War, news that slavery had ended finally reached the coast of Texas, sparking an annual commemorative event that has continued to this day. Although Juneteenth has a long history in the African-American community, celebrations in wider circles are more recent. Increased focus on race-relations in 2020 prompted this article for our English-learning friends around the world.
[Warning: history is complicated, so a short article must leave a lot out; slavery is sinful and cruel, and exists to this day, so some of this information is hard to handle.]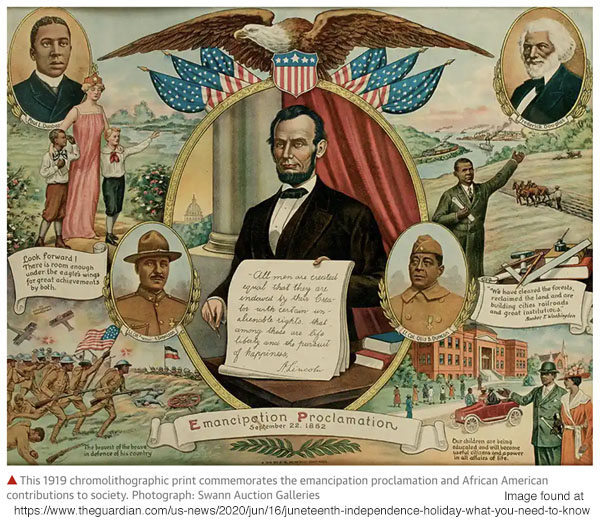 President Abraham Lincoln issued the Emancipation Proclamation January 1, 1863 (see below). The Civil War ended in April 1865, and on June 19, 1865, US General Gordon Granger finally arrived in the largest city in Texas, Galveston, where he publicly read the Emancipation Proclamation's good news declaring that "all slaves are free." The city's formerly-enslaved residents immediately began to celebrate with prayer, feasting, song and dance. The next year, African-American churches in Texas celebrated Juneteenth, and over time the event's popularity has grown. As of Juneteenth 2020, 47 states and numerous large companies recognized the holiday to some degree, sometimes declaring it to be a paid holiday. First proposed as a federal holiday in 1996, the US government finally made it official on June 17, 2021. The day has even been adopted in other countries, where slavery and racial oppression have stained both past and present.
Slavery in America
To explain the holiday, we should look back at the slave trade. Slavery dates back to the beginning of recorded history, for there have almost always been people who used physical or political strength to oppress others. Antislavery.org says that 40 million are still trapped in modern slavery worldwide today.
In articles linked below, we see that Africans were initially enslaved by their countrymen and sold to mostly Portuguese, French and British slave-traders on the coast. People were enslaved "as punishment for crimes, for the payment of debts, and as prisoners of war," and then when transatlantic demand for slaves grew they "began kidnapping people from distant villages" or selling disgraced relatives (New Yorker, 2018). It was a time of tribal warfare, and slaves were often traded for guns, and some were still sold to central and south America for decades after the US Civil War. But "researchers say the kings and chiefs had no idea of the brutality of slavery on the other side of the ocean" (CNN, 1995). It is a legacy that the African descendants of slave traders still struggle with.
This 1997 Newsweek clipping shows that 13 million people were sold to transatlantic slave-traders in Africa, and transported in unspeakably inhumane conditions to be resold in North and South America from the 1600s to the 1800s. Ten to 15% died along the route, and those who survived had been stripped of everything that makes us human, except the will to live and desire to be free. The numbers, especially in Brazil and the West Indies, are staggering. These people, and their enslaved children after them, worked primarily in agriculture in hot climates, and most had no chance to buy their freedom.
In the early United States (1776-1800s), opposition to the slave trade grew primarily in religious communities, especially in the more-industrial northern states. By 1804, most of the "North" had abolished slavery, and importing slaves into the US was banned in Jan 1808 (Britain banned the slave trade in 1831). However, American-born slaves were still bought and sold in the south and west; in fact, the number of US slaves tripled over the next 50 years, reaching 4 million. Political pressure grew, and simmering tensions over state-vs-federal rights and slavery eventually led to the Civil War. Just after Abraham Lincoln was elected President in 1860, "the South" seceded from the "Union", and 620,000 American soldiers died before the Union was restored in 1865.
After the Union Army's first major victory, President Abraham Lincoln issued the Emancipation Proclamation January 1, 1863, outlawing slavery in states then in rebellion against the United States. Of course, southern slave owners did not recognize Emancipation until the "South" or "Confederate" states surrendered in April 1865 (ending the Civil War). However, the 1863 Proclamation pushed international public opinion to the Union side, encouraged and freed runaway slaves, and allowed some 186,000 black soldiers to join the Union army. News of their freedom reached 250,000 slaves in Texas in June 1865, but officially the inhuman practice of owning another human being in America didn't end until the 13th Amendment to the US Constitution was ratified Dec 6, 1865.
The Juneteenth Holiday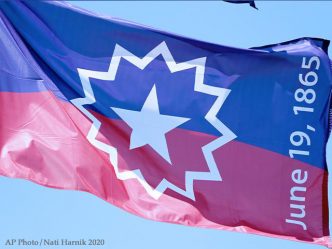 The celebration that started in Galveston, Texas, in 1865 expanded among African-American communities through the end of the 1800s. Sometimes banned from public parks, black people pooled their funds to purchase land to hold the celebration (and promote voting); some of these parks still exist. Sadly, from 1890 to the 1960s, many states (esp. in the South) passed laws that first effectively took away voting rights and then passing "Jim Crow laws" imposing second-class status on African-Americans until the 1960s (if not beyond). Celebrations of Juneteenth faded with the opportunities that should have been their birth-right.
Some sources say Juneteenth experienced a partial revival, spreading across the South in the 1920s and 1930s. In 1936, 150-200 thousand people joined in the holiday's celebration in Dallas, Texas. Another revival took place just before World War 2. As millions left the South after the war, they took Juneteenth with them. The holiday grew in popularity again in the 1970s after Civil Rights laws started to correct century-old oppression for black Americans. In President Obama's 2009 proclamation he said "Juneteenth is now observed in 31 states." By 2020, it had reached 47 states. According to The Guardian (2020, June 19): Although many presidents (including Obama and Trump) typically offered a proclamation acknowledging the day's significance, "no president has supported declaring Juneteenth a federal holiday."
In the spring of 2020, the COVID-19 pandemic hit the African-American community hard. On top of several cases of white-on-black violence, on May 25, a 46-year-old black man named George Floyd was killed by a white police officer during an arrest after allegedly using counterfeit money. Video footage of this murder unleashed pent-up frustration in the form of protests, riots and prayer services across America, calling for long-overdue reform in law enforcement and civil rights legislation. Indeed, minorities around the world were emboldened to speak up about systemic injustice. Juneteenth gained national attention, and several major companies joined a growing list of state governments in declaring Juneteenth as a paid holiday. In June 2021, both houses of the US Congress overwhelmingly passed a  bill to make the holiday official, and on June 17, 2021, President Joe Biden signed it into law (giving federal employees an eleventh paid day off).
Celebrating Juneteenth
Juneteenth is considered the "longest running African-American holiday." Early celebrations included religious and political activities, sports, entertainment and elaborate large meals—as well as a time of solemn remembrance. "Even after [1865], Black Americans faced decades of crude labor conditions amounting to involuntary servitude," The Guardian reported, "with leaving former plantations being as risky as escaping slavery itself. For many, especially the descendants of enslaved African Americans in rural Texas, Juneteenth remains a day of mourning for those freedom never reached."

More recent celebrations include "soul food" (with African-American influences), picnics, street fairs, voter-registration drives, family reunions, and music (traditional songs, the blues). In 2020, WLTX in Columbia SC quoted a Juneteenth festivities attendee as saying: "For me, it's really for my ancestors, my grandparents, our future children, everything…. Yeah, it's a blessing." To encourage multiculturalism, Juneteenth activities promote education and the appreciation of African-American history through lectures, films, and reading the works of noted African-American writers such as Ralph Ellison and Maya Angelou. In the words of Juneteenth.com: "In cities across the country, people of all races, nationalities and religions are joining hands to truthfully acknowledge a period in our history that shaped and continues to influence our society today. Sensitized to the conditions and experiences of others, only then can we make significant and lasting improvements in our society."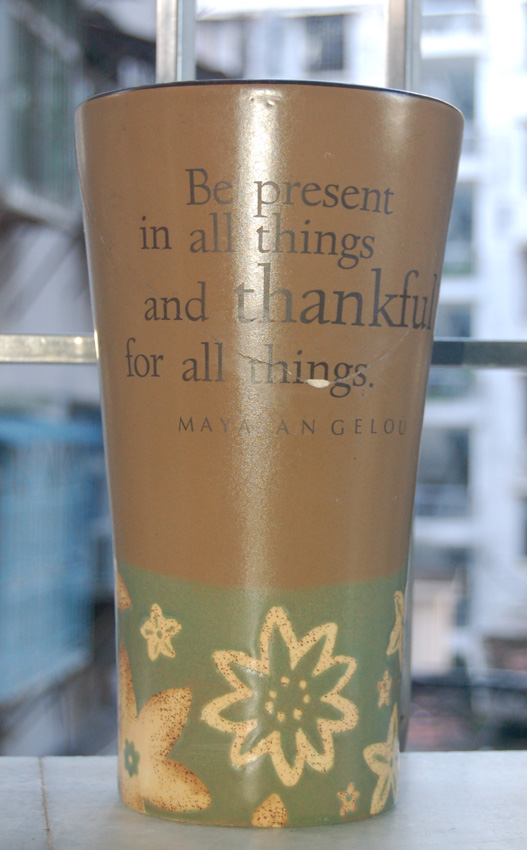 You can find official Juneteenth Proclamations from Presidents Obama and Trump at the end of this post.
In 2014, when looking for a new apartment in Xiamen, China, my wife and I found this vase on the balcony with a quote from Maya Angelou. We took it as a positive sign that we were choosing the right apartment! It says, "Be present in all things and thankful for all things." ~Michael
"Remember this day,
When you came out of Egypt,
Out of the place of slavery,
For the LORD brought you out of here
By the strength of His hand."
~Exodus 13:3 (Christian Standard Bible)
Vocabulary:
adopt: to formally accept sth in a permanent way (e.g., adopting a child, or celebrating a foreign holiday)
ancestry: related to family who lived long ago
ban (sth): [vt] to say sth must not be done, seen, used, etc.
commemorate: to honor or remember an event or contribution. Note: English-learners sometimes confuse the terms commemorate/memorialize/memorial/memorize. You remember or honor people, and they can be memorialized (a passive verb) for their contribution or example. We can also remember our loved ones at a memorial service after they have passed away. People sometimes build a memorial or monument to pay tribute to or honor (or memorialize/commemorate) a person or event. Memorize means to put something into your memory (e.g., to learn a poem by heart).
emancipate: to give someone the political or legal rights they didn't have before.
fade: to gradually lose color, disappear, become weaker, etc.

Jim Crow laws: laws that enforced separation of races in the southern US, from the late 1800s to the 1960s. These included regulations that kept black people from voting, limited economic opportunities, and subjected "colored" Americans to inferior schools, transportation and public facilities.

kidnap: to take someone by force to a place he/she does not want to go, esp. to get money in return

proclamation: an official statement about something important

ratify: to complete the process of officially making something (such as a treaty) legal

revival: when sth becomes popular again (can also refer to extensive renewed interest in a religion)secede: to officially stop being a part of another country [In 1861, 11 states seceded from the United States.]
sensitize: to teach about a problem so others can fully understand; to do sth that leads to a reaction

slavery (or involuntary servitude): treating people as property; forcing people to work against their will, esp. without payment. Modern slavery includes forced labor, sex workers, forced marriage and child soldiers.

solemn: serious, not cheerful; often describing feelings after something bad happened (e.g., a death, earthquake, etc.)

stain: to permanently change the color of something (like wood) with a special liquid; to change the way something (like a social practice) looks, esp. in a way that isn't easy to un-change.

systemic: affecting the whole, not just some small part

transatlantic: involving crossing the Atlantic Ocean (travel, communication, etc.)
Discussion:
In your own words, summarize either the history of Juneteenth, or ways that it is celebrated.
What surprised or shocked you about the content of this article?
There are minorities in every nation. Talk about the minorities in your country. In what ways are they treated differently than those in the majority?
Who has been enslaved in the history of your nation? Some people likely still think that they are treated like slaves. Do you agree or disagree with them, and why?
Juneteenth started when people learned that they were free from slavery almost two years afterthis "good news" was proclaimed in Washington DC. Can you think of other situations when good news is true but many people have not yet learned about it? (see footer for possible answers)
Juneteenth, celebrating the achievements, sacrifice, and culture of minorities, takes place in many places including England, Honduras, Israel, Japan, Korea, Kuwait, Paris, and Taiwan. Pretend your class is planning to have a Juneteenth party, and discuss your plans. (What would it include?)
Homework: Take some time to grow in your awareness of the struggles and contributions of people with African ancestry, and of the minorities in your community. Share your discoveries with a classmate or friend.
Sources include: (all visited 2020, June 19 or 20; Wikipedia revisited June 2022)
https://www1.cbn.com/cbnnews/politics/2020/june/the-story-behind-juneteenth-essentially-slavery-ended-on-that-day
https://en.wikipedia.org/wiki/Juneteenth
https://www.britannica.com/topic/Juneteenth
https://www.historynet.com/why-did-lincoln-finally-free-the-slaves.htm
https://www.history.com/topics/black-history/slavery
https://www.wltx.com/article/news/community/juneteenth-celebrations-continue-in-columbia-with-annual-freedom-festival/101-060a2375-4329-4542-a98b-1d2a8c5ad1fd
https://www.wltx.com/article/life/columbia-celebrates-juneteenth-as-calls-increase-to-make-it-a-national-and-state-holiday/101-8c5f8902-1b64-45a4-8158-de6a48b17bd9
https://www.washingtonpost.com/world/africa/an-african-country-reckons-with-its-history-of-selling-slaves/2018/01/29/5234f5aa-ff9a-11e7-86b9-8908743c79dd_story.html
https://www.newyorker.com/culture/personal-history/my-great-grandfather-the-nigerian-slave-trader
http://edition.cnn.com/WORLD/9510/ghana_slavery/
https://www.antislavery.org/slavery-today/modern-slavery/
https://www.theguardian.com/us-news/2020/jun/16/juneteenth-independence-holiday-what-you-need-to-know#img-1
https://www.npr.org/2017/01/08/508842227/one-womans-quest-to-make-juneteenth-a-national-holiday
http://www.juneteenth.com/international.htm
https://www.juneteenthftw.com/opal-lee-bio.html
https://en.wikipedia.org/wiki/Jim_Crow_laws
https://en.wikipedia.org/wiki/History_of_the_United_States_(1865%E2%80%931918)
~  ~  ~  ~  ~  ~
On June 19, 2020, the Trump White House released the following statement from the president and First Lady Melania Trump.
The First Lady and I send our warmest greetings to those celebrating Juneteenth this year.
On this day 155 years ago, African Americans in Texas first heard the righteous and long-overdue words of General Order Number 3:  "All slaves are free."  These words confirmed for still-enslaved people in Texas that the Union Army would enforce and defend their freedom, announced nearly 3 years earlier by President Abraham Lincoln in his Emancipation Proclamation.
Juneteenth reminds us of both the unimaginable injustice of slavery and the incomparable joy that must have attended emancipation.  It is both a remembrance of a blight on our history and a celebration of our Nation's unsurpassed ability to triumph over darkness.  That ability is rooted in the fundamental goodness of America—in the truths upon which we, as a Nation, declared an end to our status as the subjects of a monarch and emerged as a free and independent people: that all men are created equal by the hand of God, endowed by our Creator with the right to life, liberty, and the pursuit of happiness.  These words form the heart of what Reverend Dr. Martin Luther King, Jr., called the "promissory note to which every American was to fall heir."  The celebration of Juneteenth marks an important milestone in the hard-fought journey to make good on that promise for all Americans.
This Juneteenth, we commit, as one Nation, to live true to our highest ideals and to build always toward a freer, stronger country that values the dignity and boundless potential of all Americans.
~  ~  ~  ~  ~  ~
THE WHITE HOUSE
Office of the Press Secretary
For Immediate Release                                     June 19, 2009
STATEMENT FROM PRESIDENT OBAMA ON THE OCCASION OF JUNETEENTH
On this day in 1865, more than two years after President Lincoln signed the Emancipation Proclamation, those who found themselves still enslaved in Galveston, Texas had their hopes realized and their prayers answered. Contrary to what others had told them, the rumors they had heard were indeed true. The Civil War had ended, and they were now free.
General Gordon Granger issued the call with "General Order No. 3" saying "The people of Texas are informed that, in accordance with a proclamation from the Executive of the United States, all slaves are free. " June 19, or Juneteenth, is now observed in 31 states. Nearly a century and a half later, the descendants of slaves and slave owners can commemorate the day together and celebrate the rights and freedoms we all share in this great nation that we all love.
This moment also serves as a time for reflection and appreciation, and an opportunity for many people to trace their family's lineage. African Americans helped to build our nation brick by brick and have contributed to her growth in every way, even when rights and liberties were denied to them. In light of the historic unanimous vote in the United States Senate this week supporting the call for an apology for slavery and segregation, the occasion carries even more significance.
https://obamawhitehouse.archives.gov/the-press-office/statement-president-obama-occasion-juneteenth
---
EFLsuccess.com. This resource was created for our students under my understanding of "fair use" for educational resources. As far as I am concerned, people are allowed to print/copy the text (not the photos) for personal or classroom use. See our Website Standards and Use Policy. 
(Answers to discussion question 5 could include telling people about a job that will start in a few months, making a pregnancy known to hopeful grandparents, and all of life between Jesus' Resurrection and when anyone accepts Jesus' gift of eternal life) 
~   ~   ~   ~   ~   ~  advertisement  ~   ~   ~   ~   ~   ~