Exam Preview
Instructor: Mr. Michael Krigline, MA   ♦   www.EFLsuccess.com
Are you coming up to one of my quizzes or tests? This preview page will show you what to expect.
Because all of the instructions for my tests and quizzes are in English (unlike Chinese exams, where the information is in Chinese), it is important that my students read and understand the format of the test before they arrive to take it. Every test/quiz may not have all of these types of questions, but there will be a nice variety. If you have questions, ask in a class BEFORE the test!
Here is my "Test Preview" for content courses, like "Business English," "Movie Appreciation" or "Pop Culture." [You can ignore the "question type" that asks about "context clues." I won't use that kind of question in the summer of 2014.]
Click "refresh" (刷新) in your browser to upload the most recent version of this page; I often change things before quiz/exam time.
(I updated this "preview" July 20, 2014)
BUSINESS ENGLISH class: Here is a pdf file to help you study:
XMU Devel Business study guide su-2014pdf
MOVIE APPRECIATION class: Your final exam will be just like the midterm quiz, but will cover all four movies instead of just two. Most of the questions on the quiz will ALSO be on the final exam. If you missed the quiz, it is up to you to borrow a classmate's quiz so you know what to expect on the final exam.
ALL THREE SUMMER 2014 classes: As it says in your syllabus, the final exam is worth 75% of your grade.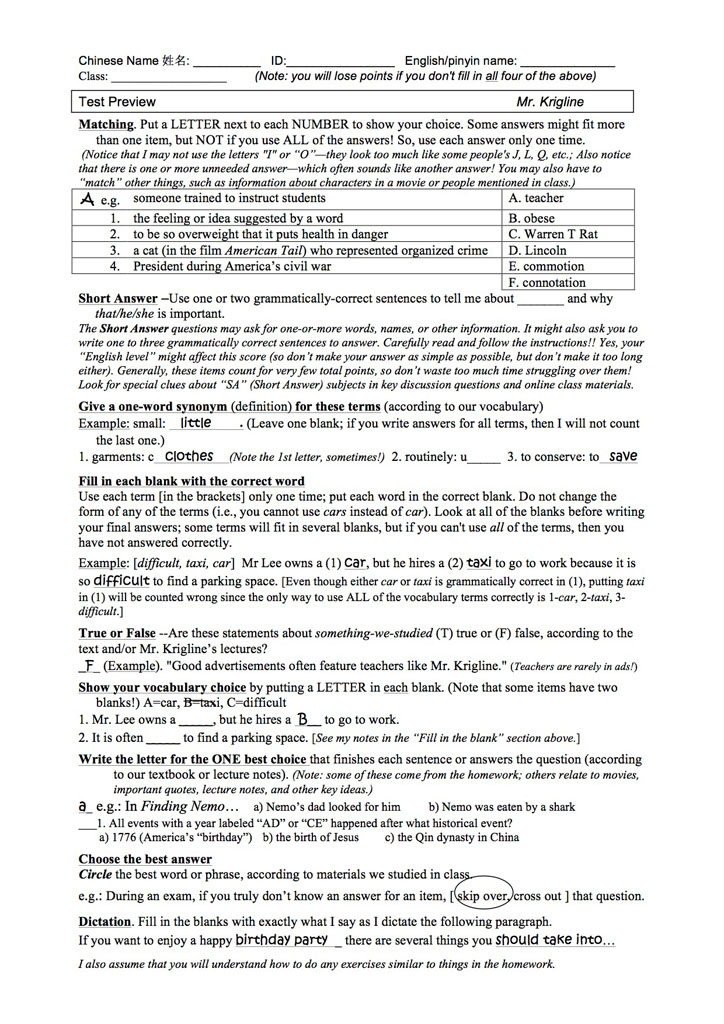 ---
Resources posted at EFLsuccess.com do not imply any consent from or relationship with any web-hosts, universities, on-line services, publishers, producers, etc.
---
EFLsuccess.com; ©Michael Krigline, all rights reserved. Our resources were created for our students under my understanding of "fair use" for educational resources. As far as I am concerned, website visitors are allowed to print/copy these materials for personal or classroom use. For details, see our Website Standards and Use Policy.
~   ~   ~   ~   ~   ~  advertisement  ~   ~   ~   ~   ~   ~