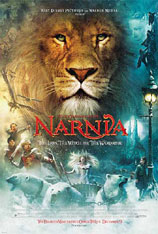 Narnia: Sample News Articles
The following articles about the first Narnia film are from my book: Successful Writing for the Real World. They served as examples in my chapters about news writing. I've posted them here to supplement my Movie Study Guide for the Narnia films. In my book, these articles also have related vocabulary lists and exercises. Line numbers were added to make them easier to use in class.
---
17.2d. News article
Narnia fans put fantasy first at box office
(December 13, 2005)
1              A movie about Narnia, where magic brings four children to
        help talking animals fight an evil witch, became the latest
3      fantasy blockbuster with a $67 million opening weekend. While
        organizers celebrate, some groups protest that the film carries
5      a hidden religious message.
                Disney's The Chronicles of Narnia: The Lion, the Witch
7      and the Wardrobe, based on a popular book series by British
        author C.S. Lewis, broke onto the charts with $67.1 million,
9      taking the weekend's top spot according to box office trackers.
        Harry Potter and the Goblet of Fire slipped to third place
11     with $10.3 million for the weekend, after spending two weeks
        at the top.
13            But some non-religious groups have attacked Narnia as
        Christian propaganda, and they urge parents to boycott the
15     film.
               Ticket sales indicate that many parents aren't listening.
17            Narnia is the third fantasy series to leap from book to
        screen in recent years, following Harry Potter and The Lord of
19     the Rings. The seven Narnia books have sold over 85 million
        copies since their introduction in the 1950s.
21            The movie opens with bombs dropping on London. Two
        brothers and two sisters escape World War II, but soon cross
23     into a magic world to become central figures in a fight between
        a kingly lion (with other beasts) and an icy witch.
25            Based on a children's novel by Oxford University Professor
        C.S. Lewis, the film is full of strong Christian themes—such as
27     the symbolic Christ character portrayed by the heroic lion
        Aslan, according to protesters.
29            One anti-Narnia website declares, "The lion gives his life
        for someone who betrays others and then comes back to life; if
31     that is not Jesus in disguise then I don't know what is."
               Pro-Narnia fans say the books have been popular (in 29
33     languages) with both religious and non-religious people
        because the fantasy emphasizes family love and the idea that
35     everyone should live in harmony.
               Theater owners welcomed The Chronicles of Narnia,
37     hoping that it will end a negative box-office trend that has left
        attendance down 7 percent compared to last year.
39            Right behind Narnia comes King Kong, Peter Jackson's
        first movie since The Lord of the Rings.
41            "That's great news for the movie industry," said Paul
        Degas, president of the National Theater Owners Association.
43            "These two films are a badly needed Christmas present."
               Estimated weekend ticket sales at U.S. and Canadian
45     theaters:
    1. The Chronicles of Narnia: The Lion, the Witch and the Wardrobe, $67.1 million
    2. Syriana, $12 million
    3. Harry Potter and the Goblet of Fire, $10.3 million
    4. Walk the Line, $5.75 million
    5. Yours, Mine & Ours, $5.15 million
    6. Aeon Flux, $4.6 million
    7. Just Friends, $3.8 million
    8. Pride & Prejudice, $2.6 million
(391 words, plus ending statistics)
---
22.1f. News-related feature
Narnia fantasy roars into Chinese theaters
The film version of a beloved British children's story gains new
fans in China (by Curtis Lin, March 13, 2006)
1              Disney's mixture of family, fantasy, conflict and a powerful
        lion earned top opening-week profits among Chinese
3      audiences, extending the success of its blockbuster, The
        Chronicles of Narnia: The Lion, the Witch and the Wardrobe.
5      The $150 million movie is based on a British series that has sold
        85 million books since it was first released in 1950.
7              "I hadn't heard of the book," said Summer Yang, a local
        college freshman. "I decided to go because of its
9      advertisements."
                Other viewers said friends or teachers recommended the
11      show.
                 The story follows four children who pass through a magic
13      wardrobe into a land of talking beasts who struggle against a
          powerful witch. There, the kingly lion Aslan sacrificed his life to
15       save a child who had betrayed the others.
           One student said she cried when the witch killed Aslan.
17              Betty, another freshman, was deeply moved when the lion
           came back to life. "I did not imagine that the writer would arrange
19       such a surprise."
                  This "surprise" was a source of controversy in the west
21       because some protestors saw the lion's return to life as a
           promotion of Christian beliefs. The author, Oxford Professor
23       C.S. Lewis, was a well-known Christian speaker and writer.
                  Commentators have described Wardrobe as a cross
25       between blockbusters The Lord of the Rings and The Passion of
           the Christ because it has attracted fantasy-lovers and religious
27       people worldwide.
                  "Most Chinese people will love it as pure fantasy," said Dr.
29       Ted Hicks, a visiting English professor. "Back home I've taught
           the story as fantasy literature, but it's also the Passion story told
31       a different way."
                  "We all want our children to see good win over evil," Prof.
33       Hicks pointed out, adding that Lewis wrote the book for a young
           relative. "Lewis, like Jesus, was a great storyteller. That's why
35       the books have been popular with kids for decades."
                  Theater manager Ms. Gong was very pleased with the film's
37       success. "Narnia made the most money during its first week,"
           she said, beating The Transporter, Thunderbirds, and Huo Yuan
39       Chia. She ranked the movie's opening "best" compared with
           other fantasy films.
41              "The movie is better than many fantasies," according to
           Betty, "because it combines reality with imagination, and shows
43       that justice is always the winner."
                  Wang Yan, a third-year student, said: "Narnia was very
45       surprising. The lion's sacrifice greatly moved me. This film is
           really worth watching!"
(395 words)
Sources: Box office figures come from Exhibitor Relations Co. Inc. Author unknown (AP), "'Narnia' storms into theaters with $65.6 million debut" (Los Angeles: Mercury News website, Dec 12, 2005, visited Dec 13, 2005) http://www.mercurynews.com/mld/mercurynews/news/local/states/california/ northern_california/13387707.htm. Additional sources include personal interviews, e-mail correspondence and various facts from on-line sources.
---
Resources posted at EFLsuccess.com do not imply any consent from or relationship with any web-hosts, universities, on-line services, publishers, producers, etc.
---
EFLsuccess.com; ©Michael Krigline, all rights reserved. Our resources were created for our students under my understanding of "fair use" for educational resources. As far as I am concerned, website visitors are allowed to print/copy these materials for personal or classroom use. For details, see our Website Standards and Use Policy.
~   ~   ~   ~   ~   ~  advertisement  ~   ~   ~   ~   ~   ~