Mother's Day (Sunday bonus)
Extra materials to use in Sunday School ⇔
May 2023. EFLsuccess.com ⇔
(Click here for my post about Mother's Day: Mother's Day)
Mother's Day Puppet Script
Note: I created this when I was teaching children at a church; we used two puppets. "Denali" is a beaver. He sounds and thinks kinda silly. Denali's good friend "Sammy" is a dog. He is the "serious" character, and he knows a lot more about the Bible than Denali.
Denali: Hi, Sammy. Happy Mother's Day!
Sammy: Um, I'm not a mother.
D I know that, silly! You're not even a girl! But you HAVE a mother, don't you?
S Of course I do.
D Then "Happy Mother's Day!" Hey, I was wondering if the Bible says anything about mothers.
S Certainly. The Bible tells us about several mothers, including Moses' mother, Sampson's mother, Samuel's mother and Jesus' mother.
D Do you know any sayings from the Bible about moms or parents?
S Well, one of the most important parts of the Bible is the "Ten Commandments" and the fourth commandment says: "Honor your father and your mother, that your days may be long upon the land which the Lord your God is giving you."
D Wow! If that is in the 10 Commandments, it must be pretty important! Sammy, are you going to do anything special for your mom today?
S Sure, I'm giving her a nice bone—her favorite kind. And I've drawn a greeting card for her. How about you?
D Sure! I wrote my mom a Mother's Day poem. Would you like to hear it?
S (hesitantly) Um… sure… I'd love to.
D OK. Well, tell me what you think when I finish. (clears throat)
Roses are red, and beavers can chew
But I couldn't chew anything if it hadn't been for you.
You gave me my teeth and taught me to fish,
So I wrote you this poem and Mother's Day wish. (Denali pauses)
S That's… "nice"… Denali.
D Wait! It's not over yet. (clears throat)
I love when you tell me those great Bible stories,
If I had any money, I'd buy you some flories.
S Um, don't you mean "flowers"?
D Yes, but that doesn't rhyme with "stories"
S I see…
D (clears throat) Because of your faith, now I'm a believer
Because you're my mom, I'm also a beaver
(to Sammy) You see, if she was a sparrow, then I'd be a sparrow, but she's a beaver, so…
S Yes, yes; I understood what you meant.
D Are you ready for the big finish?
S I can hardly wait…
D (clears throat) I sure love my sister and I'm nuts about Dad,
But you're the best Mom I've ever had.
S I'm sure she will be "touched."
D You think so?
S Yes. I'm sure. As they say, "It's the thought that counts." But I think you should work a little harder on that line about the "flories"—I mean "flowers…"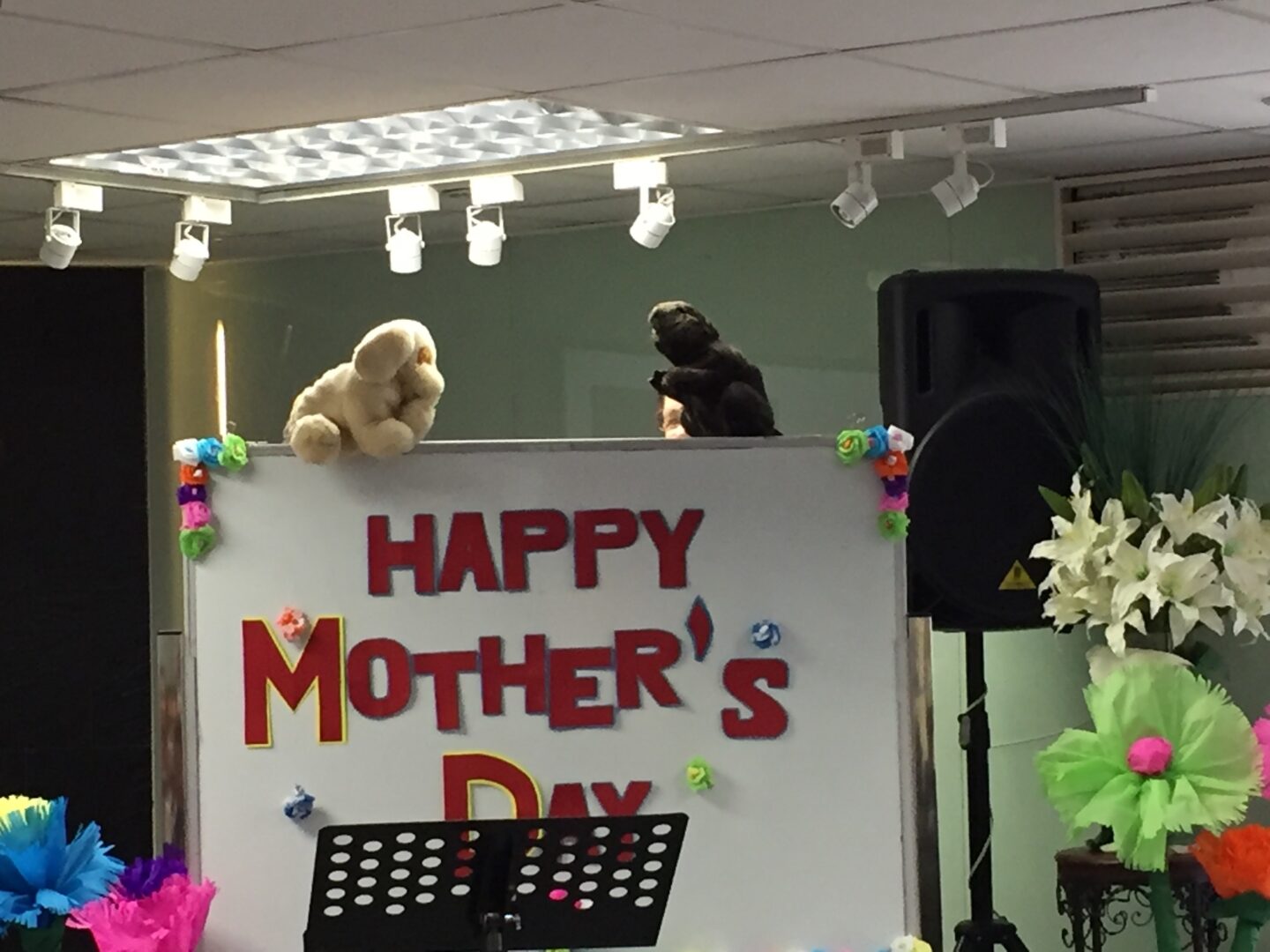 ---
~ ~ ~ ~ ~ ~ advertisement ~ ~ ~ ~ ~ ~
---
If you still have time, talk about these Bible passages:
2 Tim 1:3-7 (two remembered moms; a big impact)
Exodus 1:7-10 and 1:22-2:10 (two moms, a sister and a basket)
2 Kings 11:1-18 (Athaliah, Queen of Judah?)
Luke 1:26-38 (mother chosen by Father)
After you read a passage, if anyone has questions about the passage, he/she should ask. Someone in the group can try to answer.
Together, answer these questions:
A. Who are the mothers in this story? (Don't forget the importance of adoptive mothers and of grandmothers.)
B. Are the mothers in your verses good or bad mothers? How can you tell?
C. How would you describe them?
D. What key traits or characteristics do you see in the women of these verses? E. What was the lasting impact of these women?
---
EFLsuccess.com; ©Michael Krigline, all rights reserved. This resource was created for our students under my understanding of "fair use" for educational resources. As far as I am concerned, people are allowed to print/copy it for personal or classroom use. See our Website Standards and Use Policy.
~ ~ ~ ~ ~ ~ advertisement ~ ~ ~ ~ ~ ~