Introduction to Mother's Day ⇔
May 2023. EFLsuccess.com ⇔
(This post is also in the "articles" section of my personal website (wp.krigline.com), which is full of interesting articles, pictures, music, and more. Check it out!)
Many nations have a special day to celebrate mothers and motherhood; in America, it is celebrated on the second Sunday every May. This US holiday dates back to 1858, when Mrs. Anna M Jarvis started a "Mother's Day Work Club" in West Virginia. Anna was a peace activist, who cared for wounded soldiers on both sides on the American Civil War (1861-65). Soon, similar clubs were started around the country, seeking to honor mothers and/or to help doctors as they cared for women's medical needs.
Photo: Mother-child statue in Bangkok, Thailand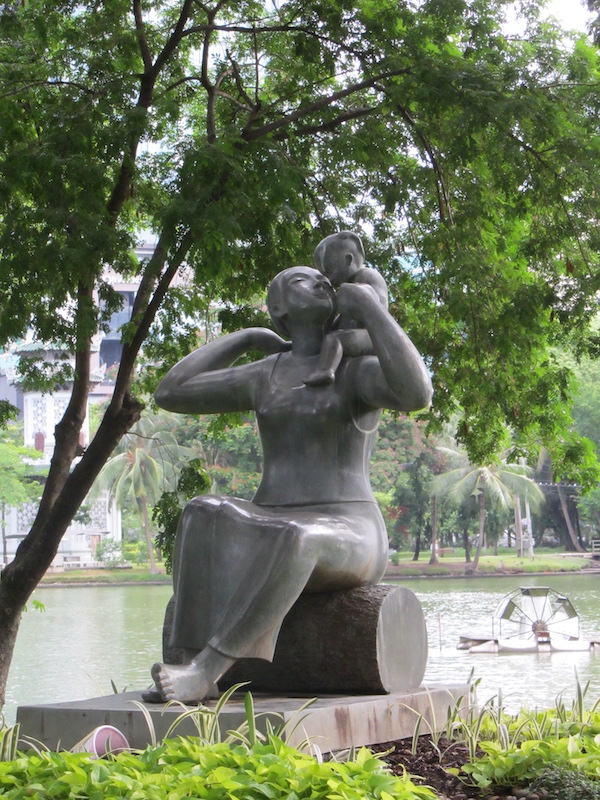 In 1907, two years after her mother Anna M Jarvis died, Anna Jarvis campaigned to make the second Sunday in May a national holiday, and made the idea popular across America. The celebration became official May 9, 1914, when President Woodrow Wilson agreed with Congress about this observance.
Many churches give flowers, especially carnations, to all mothers on Mother's Day; sometimes mothers wear a white carnation, and women wear a colored carnation to honor a deceased mother. From the beginning, pastors have encouraged the celebration with sermons about the important role and influence of mothers. Today, many people honor their mother with greeting cards, phone calls, candy or a meal at a favorite restaurant.
Incidentally, Anna Jarvis was very upset about all those who made a profit from Mother's Day. In fact, in 1925 she was arrested for "disturbing the peace" while protesting the sale of carnations!
Sources include:
–A Look Inside America: Exploring America's Cultural Values and Holidays by Bill Perry
— https://en.wikipedia.org/wiki/Mother%27s_Day (which also has extensive information about Mother's Day in many other countries)
Discussion
1. If Mother's Day is celebrated in your country, tell us about it.
2. In America, the Mother's Day holiday was originally promoted by churches. Why do you think it started there? Who originally made Mother's Day popular in your country?
3. Anna M Jarvis is called a "peace activist." Do you think it would be difficult to provide medical care for your nation's enemies in a time of war? Why or why not?
4. Tell us about a gift you gave or received on Mother's Day.
5. After helping to make Mother's Day popular, what made Anna "very upset"? Do you agree with her? Why or why not?
If you still have time, talk about this "motherly advice" from the Bible:
My son, keep your father's command and do not forsake your mother's teaching. Bind them always on your heart; fasten them round your neck. When you walk, they will guide you; when you sleep, they will watch over you; when you awake, they will speak to you. (Proverbs 6:20-22)
Closing advice from Jesus' mother (John 2:5): "Jesus' mother said to the servants, 'Do whatever he tells you.'"
---
~ ~ ~ ~ ~ ~ advertisement ~ ~ ~ ~ ~ ~
---
One day I was browsing in a bookstore (in SE China!), enjoying the background instrumental piano music. Then, the artist started to sing, and I was soon crying! That's the first time I heard Jim Brickman's wonderful song: A Mother's Day.
Before you listen, work with a partner or small group to list many of the things that mothers do for their children.
A Mother's Day—by Jim Brickman
Mom and Dad were reading in the den;
Mom said,
"I'm going to go to bed, it's late."
She went to the kitchen
to make three school lunches–
Another night in a mother's day.
(She) put the cereal bowls
out for breakfast,
Set the coffee maker for 6:00 am,
Sewed a loose button
on brother's shirt for him,
Checked sister's math homework,
Sent a note to the teacher,
Added eggs to the grocery list,
Started a load of wash,
Made sure the doors were locked,
Put water in the puppy's dish,
Wrote a check
to the children's piano teacher,
Turned the dishwasher on…
And Dad called out,
"Honey, what's taking you so long?"
Chorus:
Have I ever thanked you
for everything you've done?
Now all that I can say is,
"I love you, Mom."
She hung some art
on the refrigerator door and
Headed up the stairs,
Kissed all the children and
Helped Sister comb
her wavy golden hair;
Washed her make-up off
and turned on the bath,
Lay down in the moon soft light,
And kissed Dad good-night.
Repeat Chorus:
Thank you for nursing me
Through all those colds and fevers;
Thank you for believing in me
When there were no other believers.
Chorus:
Have I ever thanked you
for everything you've done?
Now all that I can say is,
"I love you, Mom."
And it's never too late to say,
"I love you, Mom."
---
Mother's Day Mime Game
Basic rules:
act out things that mothers do
NO words (only actions, by one person)
to make this a competition, form two or more groups; the teacher appoints a "judge" for each group
once the judge shows you a phrase, you MUST act, or hurt your team by saying "pass" (the order of the phrases should change from group to group)
the judge keeps score. +2 if anyone guesses correctly; -1 for "pass" or "foul" (i.e., using words)
the judge can say "pass" if no one guesses correctly in about 30 seconds
your group has only 5 minutes to act-out all 18 "things mothers do"
the first group to get all 18 correct wins (no passes or fouls); if no one "wins," we'll use the group scores.
We hope everyone is willing to try "acting", but if you really don't want to, that's OK (just stay out of the "actor" lineup so the judge doesn't give you something to mime).
Read a story to a child from a book
Make a meal for the family
Pour/give a drink to a child (e.g., milk or juice)
Sew a loose button on clothes, or mend them
Send/wire money to a family-member far away (e.g., her child or parent)
Help with a child's homework (e.g. check the answers)
Contact your child's teacher or school (e.g., to say the child is sick and can't come today, or to complain about a bad grade)
Buy food at the grocery store
Wash clothes
Do something to help take care of a family pet (dog/cat/bird/fish…)
Pray for a child who is far away (perhaps looking at his picture?)
Wash the dishes after dinner
Pay for music lessons (such as piano lessons)
Praise or display a child's artwork (e.g., place it on the refrigerator door)
Comb or wash a child's hair
Give a bath to a baby or young child
Send/mail a gift (e.g., to a child far away)
Take care of someone when sick, or put on a bandage/plaster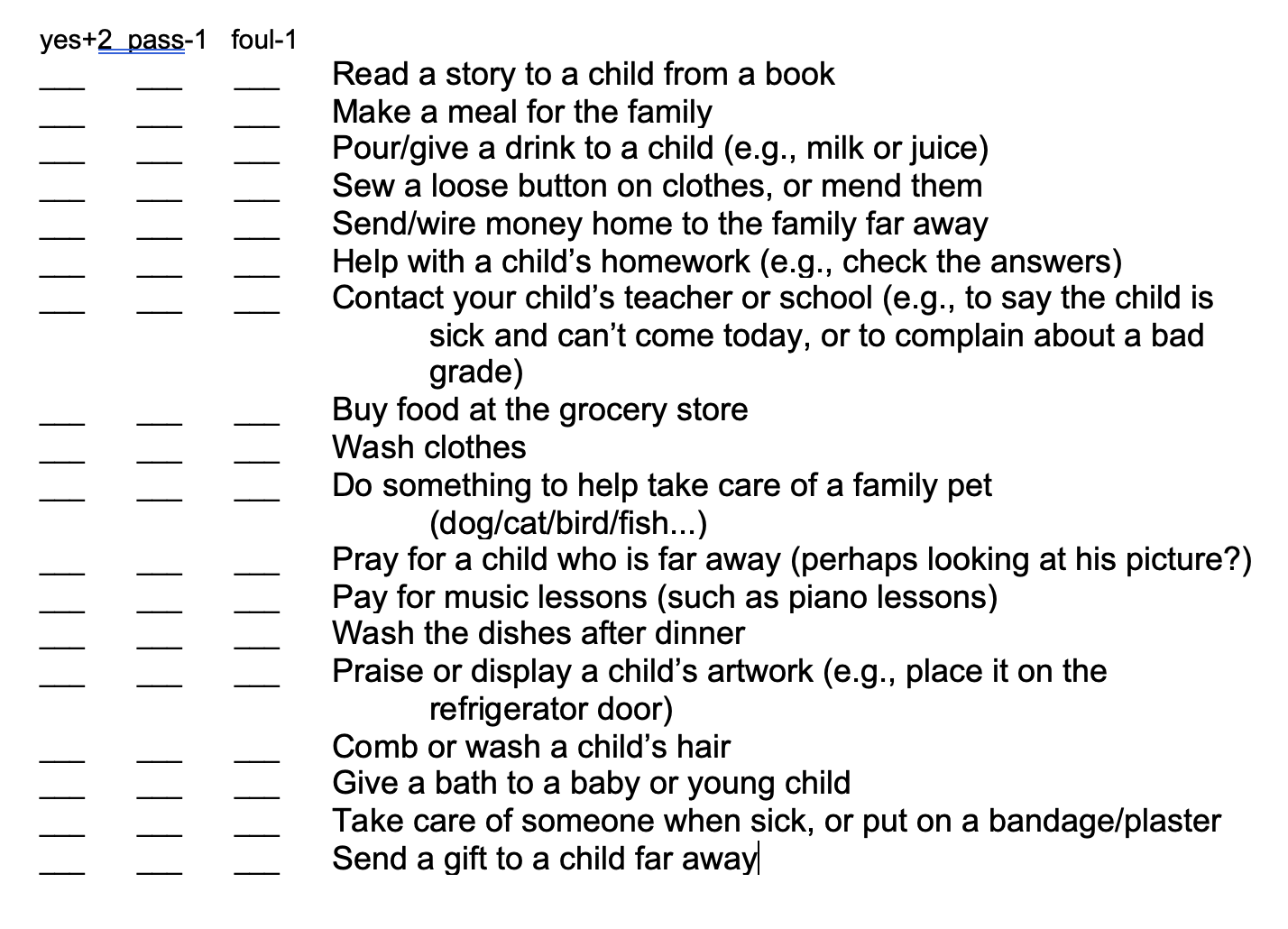 ---
EFLsuccess.com; ©Michael Krigline, all rights reserved. This resource was created for our students under my understanding of "fair use" for educational resources. As far as I am concerned, people are allowed to print/copy it for personal or classroom use. See our Website Standards and Use Policy.
~ ~ ~ ~ ~ ~ advertisement ~ ~ ~ ~ ~ ~