Evan Almighty, www.EFLsuccess.com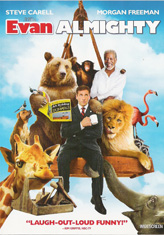 Story: Evan Baxter has been elected to Congress and moves to the DC suburbs. Then God tells him to build a replica of Noah's Ark (a huge ship, designed to save animals from a huge flood). Everyone thinks Evan has gone crazy, but God is persistent, and Evan finally decides to trust and obey. And that turns out to be the right decision. From funny animal scenes to the way the (real) wooden boat was recycled to build homes for the poor, this film points to a better way to live. It makes us laugh our way into some great discussion topics: family, love, the environment, the nature of God, politics, and the power of kindness…to name a few! Come along for a wild ride on Evan's Ark! (2007; PG; 1.5 hours; Universal Pictures; comedy-family-fantasy; key actors: Steve Carell & Morgan Freeman; Director: Tom Shadyac; Producer: Tom Hanks)
Setting: Washington DC and its suburbs
Note 1: Most of the animals are real, though "movie magic" put them into the same shot.
Note 2: The film crew used a huge amount of wood to make the sets and parts of Evan's Ark; this wood was recycled afterwards into lumber for Habitat for Humanity homes.
Note 3: A number of jokes or lines presuppose that you are familiar with the Bible's account of Noah and his Ark (ship). For example, it was to be made of "gopher wood" (hence the joke about "GO-4-WOOD") and was built before a world-wide flood. If you wish to read it, this account is in the first book of the Bible: Genesis 6:9 to 9:17.
Trailer: https://youtu.be/R1QArbkQsVw
People and proper nouns:
Evan Baxter: the former news-announcer, who is now a new Congressman
Joan Baxter: Evan's wife
(Baxter sons: Dylan, Jordan, Ryan)
God: Represented in this film by the talented African-American actor Morgan Freeman
Congressman Chuck Long: a heavy-set long-time Congressman who seems to be helping Evan get started, but early on Rita wonders if we can really trust him
Baxter's aides: Rita (Admin Assistant), Marty (Legislative Assistant), and Eugene. Eugene is a student/aide who is exaggeratedly enthusiastic about the new Congressman. Non-native English-speakers may find it hard to understand Rita, who is full of humorous wit and

sarcasm

.
Vocabulary:
Underlined words are vocabulary terms; *key terms; green terms are in part 1.
anthrax

: a serious disease caused by bacteria (it has been used as a weapon, and is thus associated with "biological warfare")
*

big Kahuna

: (slang) the leader or top-ranking person in an organization (the word has Hawaiian origins) #339966
*to board: to get on (a boat, bus, airplane)
*censure: an official act (e.g., by a legislative committee) that criticizes and expresses strong disapproval for someone for doing something wrong ("An act of censure would have serious political consequences.")

*the cops

: (slang) the police
(sth) crooked: bent, twisted or dishonest
*to cut corners: to "leave things out" when doing something—often in a sloppy or illegal way—in order to save time or money

*escrow:

money that is held by someone who is not directly involved in an agreement while the agreement is being achieved (e.g., it is common for lawyers to have money "in escrow" during the process of buying property)
*gonna: oral English, meaning "going to" (you should never write the word "gonna" because it is not really a word)

gopher wood

: the type of wood Noah's ark was made of (since the Hebrew word is not used elsewhere, the exact type of wood is uncertain)
*head honcho=boss: (slang) an important person who leads or controls a business

a lot

(property): (AmE) a piece of property, as distinguished from whatever is built on it ("We were going to put an office on the lot, but decided to use it as a parking lot.")

*mid-life crisis

: a period of worry or a desire for "a big change in life" that some people experience when they are 40-50 years old

page

: (political term) a person authorized to deliver/distribute legislative material and other things to congressmen

petri dish

: (scientific equipment) a covered dish used to grow bacteria and do other experiments
pissed (or pissed off): (AmE and rude) extremely angry or irritated [In BrEnglish "pissed" means "drunk")
*a refill: (in a restaurant) more of whatever you are drinking (or sometimes another helping of the same food). ("In McDonalds, soft drink refills are free.")
repent: a command to turn from sin to righteousness, that is, to "turn around" from inappropriate behavior and do what you know is right
*

sarcasm

: saying things that are the opposite of what you mean, in order to make an unkind joke or to show that you are annoyed

to tase sb

: to use a "stun gun," which uses electricity (not bullets) to temporarily disable the person shot
vice: a bad characteristic in humans, from a mild failing to a wicked or immoral habit
virtue: a universally admirable human characteristic, esp. one that is morally good
*wanna: oral English, meaning "want to" (you should never write the word "wanna" because it is not really a word)
Phrases/sayings:
"Everything is hunky dory."

There are no problems; everyone feels happy about this.

"Here's the skinny."

: Here's the deal; here is my short explanation for sth.

"I got woozy."

: I became weak and wanted to faint ("It was so big I got woozy just looking at it.")

"Man plans, God laughs."

A Yiddish proverb that reminds us that our plans are secondary to God's plans. It is as if you tried to say to your boss, "Don't tell me what you want me to do, I've got plans of my own."]

"shooting up Rogaine?"

To "shoot up" is to "inject" or put illegal drugs into your body with a needle; "Rogaine" is a popular topical "hair growth" treatment for thinning hair (one puts this on their head, and does not "inject" it!—hence Rita's joke)
*

"To play hooky."

When a child intentionally stays home from school without a good reason.

"turned in to the principal."

Those who "play hooky" are taken to the schools principal (headmaster; head of the school) for punishment.
*"When life gives you lemons, make lemonade." Make the best out of a difficult situation; turn something negative into a positive.
"I can roll with that." I can go along with that, even though it was unexpected.
More information:
Another summary: (to help you understand what you will see)
This film opens with Buffalo, N.Y., anchorman Evan Baxter celebrating his election to Congress. Evan packs his wife and three sons into their new Hummer and heads to Capitol Hill—where he meets Congressman Long, a seasoned politician eager to secure Evan's loyalties to get a (deceptive?) law passed. But before Evan can even start putting in the long hours of a politician, his wife prays that the family would grow closer together, and Evan asks God to help him change the world. And God hears them.
Almost immediately, strange coincidences grab Evan's attention. Loads of lumber mysteriously appear in his front yard. Then he gets a visit from the Creator of the universe who tells him to build an ark. Evan disbelieves and ignores the divine directive until a string of embarrassing moments convinces him that God won't take "no" for an answer.
In fact, the Almighty imposes a deadline for the boat-building project, hinting that a flood is coming. So, Evan and his sons start hammering and sawing while wild animals migrate to the neighborhood in pairs. Soon the image-conscious politician turns into a hairy, robed, Old Testament "Noah," mocked by the media, but faithful to God's plan even though he really doesn't understand it.
The biblical account of Noah is a fantastic story. It's human, it's epic, and it has a moral. This PG-13 comedy presents a part of that true story, and touches the heart with messages about family and faith from a director brimming with passion and religious sensitivity.
Adapted from Focus on the Family's study guide: https://www.pluggedin.com/movie-reviews/evanalmighty/
Sentences/dialogs from the movie (part 1):
(also see http://www.imdb.com/title/tt0413099/quotes/?ref_=tt_trv_qu; blue indicates a key dialog or sentence)
Say these dialogs out loud with your friends; it will help you prepare to watch the movie. The underlined words are defined in the vocabulary section above.
1. Announcer Susan Ortega: And that's the news. But before we sign off, we'd like to thank our very own Evan Baxter, who has just been elected Buffalo's representative to Congress. And now we have a surprise for Evan.
Evan Baxter: No, you don't.
Susan Ortega: We do.
Evan: Oh, no. I really didn't expect this.

Susan: Here's a look back at his run for office.

We watch clips of his political campaign, and his promise to "Change the world."
Evan (with a tear in his eye): I feel like that old Indian in front of all the garbage…. So, for the last time, this is Evan Baxter for Eyewitness News. Good night.
This refers to a public service announcement that had a deep effect on the Baby-Boomer generation: https://youtu.be/yBZ3Zpk034E
2. They move into a new house (workmen are still finishing it) in the DC suburbs (in "Prestige Crest" under beautiful "Long Lake Reservoir"). We see that Evan is very concerned about his "image" and also isn't very concerned about the environment. As the day ends, Mom says the boys had a lot of fun.
Joan (Mom): And then Ryan did the cutest thing. He asked if we could all pray together.
Evan (Dad): Really? What did you pray about?
Joan: He met a dog. What do you think he prayed for?
Evan: Uck! Just a walking

petri dish

, that dog.
Joan: And Jordan was very precise. He prayed for good visibility, good weather on the hiking trip tomorrow.
Evan: The hiking trip? Oh, right. The hiking trip. Yeah, yeah.
Joan: You

wanna

know what I prayed for? I prayed that we would become closer as a family.

Evan: Honey, you don't need to pray for that to happen. I will make that happen.

Joan: What would you pray for? [Evan shrugs at the thought of praying.] Honey, you're the one who said you wanted to change the world. That's a pretty big job. If it were me, I would take all the help I could get.
Later that night, Evan decides she is right, and kneels by his bed (you can tell he does not pray often.)
Evan: Hi, God. I just wanted to say thank you for everything. Thank you for the new car and for the house. I love the house. I mean, I picked it out, but you created matter and everything, so…. Now that I am in a position of great power, and I know that with great power comes great responsibility, so, God, please help me change the world. OK. That's it. I'm hanging up now.
3. Rita (Admin Assistant, as Evan enters his new office): There he is! The

head honcho

. The

big Kahuna

.
Evan: Rita, I think I have to do the dance.
Rita: Do the dance. [a few seconds later…] That's enough of the dance.
Evan: This office is nice! This is really nice!
Rita: It's too nice. There's something

crooked

going on. [

sarcastic

ally sniffs] Do you smell

anthrax

?
Marty (Legislative Assistant) interrupts and introduces Evan to his

pages

and staff, including Eugene Tennanbaum, "the new kid" he found at "GW" (George Washington University) whom Marty calls a "walking search engine." On cue, Eugene lists Evan's coffee favorites, etc.
Evan: Very impressive. A little freaky, but I like this kid. [everyone laughs]
Eugene (to Evan): I love you!… I mean, I think we should hang out socially… I just got a ping pong table.
After an awkward moment, Marty dismisses everyone.
Rita (to herself): I'm going to do a background check on that kid. [Later she asks, "Can I

tase

him?"]
Then we find out that Evan's "neighbor" at Prestige Crest is the powerful Congressman Chuck Long, who surprised everyone and got Evan this very nice office. In return, Evan is supposed to quickly read a tall stack of papers, and cosponsor Long's new "bill" (a proposed new law). It's called "The Citizens' Integration of Public Lands Act." They ask Eugene to explain what it is about.
Eugene: HR7124, better known as CINPLAN. The bill would open up fringe areas of the national parks for development. Long's been sitting on it for ages… There's a time clock on the bill; if Congressman Long wants to pass it this quarter, he's going to have to introduce it to the committee immediately.
Marty: Evan, this is huge! You hitch your wagon to the right stars and you could ride all the way down to Pennsylvania Avenue [i.e., become President someday].
Evan is sad because this means he cannot go on the hike with his family, as promised. When he gets home, the boys are very disappointed.
Evan: Hey, we said we would have to make sacrifices. I'm the one who has to read this thing!
Eldest son: New house, same old Dad.
4. We have started to see signs that God is up to something. Evan's alarm (he later calls it a "voodoo clock") goes off and says "Gen 6:14". His phone extension is 614. His new license tag is GEN 614. Tools arrive from "Alpha and Omega Hardware." In the morning, a lot of wood is delivered and dropped on Evan's new grass. He calls to complain that he lives at "416" not "614" Oakwood Lane. He sees that the wood company is "1-800-GO-4-WOOD". Then he realizes that "Gen 6:14" is a Bible verse:
Evan Baxter (reading Genesis 6:14): "Make thee an ark of

gopher wood

." Gopher wood?

God (sitting on the wood): "Go-four-wood." Get it? Well, it's not really gopher wood. I just like the wordplay. No, it's pine and maple (wood). It was clear-cut from this valley to make room for all those houses.

Evan Baxter: Excuse me. Do I know you?

God: Not as well as I'd like. I see you got my housewarming gift. [The tools.] Genesis 6:14. I want you to build an ark.
Seeing that Evan is confused, God starts telling Evan about himself… ("You're a clean freak. You care much too much about your outward appearance…. When you were a little boy, you were afraid of Gumby….").

Evan: Who are you?

God: I'm God. And I want you, Evan Baxter, to build an ark.
5. Evan Baxter (to himself while driving to work): Shake it off, Evan. The nutcase [i.e., who thinks he is God] is gone. I am successful, I am powerful, I am handsome, and I am happy. Successful, powerful, handsome… [Looks into rearview mirror, and sees God in the back seat, having just appeared out of nowhere] AAGGGHHHHH! AAAAGGGGGGGHHHHHHHH!
God (smiling): Let it out, son. It's the beginning of wisdom. [This is a paraphrase of Proverbs 1:7: "The fear of the LORD is the beginning of knowledge: but fools despise wisdom and instruction." Also see Psalm 111:10 and Proverbs 9:10]
Evan Baxter: How did you get in here? D'ah! I'm calling

the cops

.
God: No wait. Look-look-look. There's one right there. [Points to a motorcycle

cop

beside the road. Evan rolls down his window]

Evan: Officer! Officer! Carjacker, carjacker in the car! Carjacker in the car!

[The officer turns his head, revealing that he is God.]

Officer "God": Careful pulling out. Pedestrian in the crosswalk.

[Evan turns around. God has vanished from there. He looks and sees God crossing the street, and in the car behind him, honking for him to move.]
6. All members of Congress (reciting the Pledge of Allegiance): I pledge allegiance to the flag, of the United States of America, and to the Republic, for which it stands…
[God suddenly appears right next to Evan]
God: One Nation, under Me, indivisible, with liberty and justice for all. [God looks at Evan] How long do you want to do this, son? I've got all eternity. [Evan faints on the spot]
7. Animals and birds start to follow Evan around, and birds are covering him when important Congressmen arrive. He talks his way out of the mess; the men leave.
Evan (to Rita and Marty, who are shocked): These birds had a nice big meal before they flew in here.
Rita: Want me to get my BB gun?
Evan: No, I want you to open the door. I'll run through it and you close it after I leave!
Rita: Man, if I get the bird flu, he is paying for my medical bills!
8. As animals appear around Evan, two sheep appear in the backseat of his car.
Evan: SHEEEEEEEEEEEP!
Evan (cries out, overwhelmed): This is insane! Enough already!
God: See, if you had an ark, you'd have a place to put them all.

Evan: OK. I believe you. I just don't understand why you chose me.

God: You want to change the world, son. So do I.

Evan: Why an ark? I mean that's like flood territory. You wouldn't do that again. You wouldn't do that. Would you do that?

God: Let's just say, that whatever I do, I do because I love you.

Evan: Well, then you have to understand that this whole building-an-ark thing is really not part of my plans here. I need to settle into my house. I need to make a good impression at work.
God (laughing): Your plans! [God's laughter is a reference to the proverb: "Man plans, God laughs." See "phrases" section.]
Evan: This is huge! I don't even know where I would begin!
God: I hear that a lot. You want to know how to change the world, son? [God cleans a dish and fills it with water for a stray dog.] One act of random kindness at a time. [The dog is grateful.] You build the ark. I'll fill it. And if anybody asks, tell them a flood's coming. [Then God gives Evan a book called "Ark Building, for Dummies."]
9. God arranges for Evan to buy "8

lots

" (the pieces of property around his new house).
Joan: What are you doing? You know we can't afford that. What are you going to do with eight

lots

?
Evan: I don't know. Maybe I'll build a boat.
Joan: Did you say "build a boat"?
Evan: It might be something fun for the family. We could take the boat, go sailing on the lake. I don't know. [looking at his feet, under his breath] Be great in case it floods or something…
Joan (angry): What is going on with you? Is this a

mid-life crisis

?
Evan: Honey, I know this sounds crazy. I really think I need to do this.
Joan: OK. Build your boat. Just don't take too long, okay? Because we didn't leave our lives in Buffalo so you could sail the S.S.Depression.
1

0. God also starts to change Evan's appearance. Apparently, God wants him to have long hair and a beard, and to wear an ancient robe—and Evan can't do anything otherwise! The first time Evan visits his office….
Rita: Why do you sound like Evan Baxter but look like a Bee Gee? Evan, what happened? Did you fall in a mine shaft?
Evan Baxter: No.
Rita: Did you just come out of a coma?
Evan Baxter: No.
Rita: Were you attacked by a werewolf?
Evan Baxter: No, I wasn't.
Rita: Well, if you were going for that rugged look, you overshot it. You look like a bum in a suit. You need a haircut and a shave!
Evan: Yeah! But it doesn't work!
Rita: What do you mean that shaving doesn't work? What? Are you

shooting up Rogaine

?
Evan: I'm going through adult puberty. This is all temporary. Now, WHY did you bring me down here?
Marty: Remember this letter of intent for Congressman Long? Now he wants you to sign it in person!
Evan: Nope! Nope. I can't do that. And I can't shave, Marty. Whenever I shave it grows back out!
Marty: That happens when you shave! But then you shave again!
Evan (whispering in frustration): You have no idea!
11. Evan and his three sons start to build the ark. They realize they need help lifting the heavy wood beams, and suddenly an ancient crane appears, with a note attached: "Ask and you shall receive. ~G" The two younger boys "walk" in a cage, which gives the machine power to lift. Eventually, some of the animals also start to help with the work.

46:06 is a good mid-point to stop for discussion (just after the boys say "We are hamsters!").
Discussion (Part 1):
Talk about animals. Young Ryan likes animals a lot and knows a lot about nature. What is your favorite animal, and why? In what ways can animals "help" humanity, and in what ways should humans "help" animals?
What are some of the changes Evan's family faced when he won election to serve in congress? Do you think Evan (or anyone with a family) should have tried to get this new job in DC? Why or why not?

Talk about how a parent's career affects the family. Do you think a parent should sacrifice work-related opportunities because his/her kids are "happy" in their current location/situation? How does a parent know when to put work responsibilities before family expectations, and when should a parent "put family before work"? Explain.

Look at dialog 8. How does God say that we "change the world"? Tell us about a time you saw the power of kindness make a significant change in someone's life.

At one point, God "shows" Evan what his neighborhood looked like BEFORE people cut the trees and started to build lots of houses. Evan is amazed at how beautiful it was. In your country, what is being done to protect the environment? Do you think this is "enough"? What responsibilities do individuals have (vs the government) to protect the environment?

Give a whole sentence about these "changes" in Evan's life: Hair, beard, clothing, animals, going to work, massive boat, news media. Pretend that you are Joan (or Marty or Rita): what would you have said or done when Evan started to make these changes? What would it have taken to make you decide to leave Evan?

Sentences/dialogs from the movie (part 2):
12. Right after God gives Evan the robe—making his family even more nervous—God appears on the TV and says: "Until September 22, midday. And if the ark isn't finished by then, you will be." (But only Evan can hear this!)
Joan: What is going on? Evan, talk to me!
Evan (sheepishly, because he knows it sounds crazy): I'm building an ark. God appeared to me and told me to build an ark. He said there was going to be a flood and that I should be prepared. Whenever I shave, my beard grows right back out. My hair grows longer every day. This robe… God sent me the robe. He thought it would be funny. I actually think it's really comfortable. That's why I'm wearing it.
Joan: Maybe this move has put too much pressure on you. I don't know. But this has got to stop. Please. You're scaring me! The boys need their father back, and I need my husband back.
13. Evan has to be at a meeting about Congressman Long's bill, and the meeting is on TV (C-Span provides live broadcasts of important political meetings). Since he has to wear the robe, he puts a suit OVER it. He has also braided his beard. He says he is "

making lemonade out of lemons

."
Rita (watching C-Span, as is Evan's family): Evan, what are you doing? You have a pony tail on your face! What you

gonna

do next? Cornrow your eyebrows?
When Evan stands, his suit disappears, and he is suddenly standing in the "Noah outfit" again.
Rita: Did you just do a wardrobe change? What do you think this is, the Oscars. You are not Whoopi [actress Whoopi Goldberg].
Long: Ladies and Gentlemen, please [come to order]. Congressman Baxter has a tendency to embrace the theatrical in his support of this bill. Congressman, let me warn you, you are approximately 10 seconds away from committee

censure

. March yourself and your animal troupe out of here NOW.
Evan: I'm afraid I can't do that. These animals are not trained. I think they want me to save them.
Congressman: Save them from what, Congressman?
Rita (watching C-Span): Saving the animals; okay.

I can roll with that

. That's a good idea.
Evan: Save them from a flood.
Rita: A flood? [I'm] Rolling out. Time to update the resume.
Evan's son (watching C-Span): Does this mean we are moving back home?
Joan: Home. Canada. One or the other.
14. Joan has taken the kids to a diner, and The Daily Show with Jon Stewart is showing on the TV.
Jon Stewart: He's filling the boat with two of every kind of animal. Still to be collected: two giraffes, two elephants… and one more jackass.
The crowd in the diner laughs, not realizing that Evan's family is sitting there. Joan asks a waiter for a "

refill

"—we see that it is God (his name tag says "Al Mighty"). They get into a conversation about Evan.

God: I love that story, Noah and the Ark. You know, a lot of people miss the point of that story. They think it's about God's wrath and anger. They love it when God gets angry.

Joan: What is the story about, then?

God: Well, I think it's a love story about believing in each other. You know, the animals showed up in pairs. They stood by each other, side by side, just like Noah and his family. Everybody entered the ark side by side.

Joan: But my husband says God told him to do it. What do you do with that?

God: Sounds like an opportunity. Let me ask you something. If someone prays for patience, you think God gives them patience? Or does He give them the opportunity to be patient? If he prayed for courage, does God give him courage, or does He give him opportunities to be courageous? If someone prayed for the family to be closer, do you think God zaps them with warm fuzzy feelings, or does He give them opportunities to love each other? Well, I've got to run. A lot of people to serve. Enjoy your

refill

. [Food magically appeared in front of Joan.]
15. Joan and the kids return to help Evan, but Joan brings the bad news that Congressman Long has asked the government to tear down the ark and arrest him (on Sept 22), citing "a laundry list of code violations." But—seeing all of the animals around them—they are committed to finish building the ark. And now the animals want to help.
Joan: Is that a llama with a hammer?
Youngest son: An alpaca. They rarely spit at people unless frightened or abused.
News reporter1: No one knows where they came from or how the congressman is getting them to do it, but, two by two, animals of all kinds are working with Godspeed to build this ark. If this flood really does happen, "Evan help us."
Reporter2: Evan Baxter! You have gone from newsman to congressman to caveman. What makes you so sure God chose you?
Evan Baxter: He chose all of us.
16. On Sept 22, which is also the day Long's bill is going to be voted on, Marty, Rita and Eugene come visit Evan. They have discovered that Long "

cut corners

" when he built the dam up above Prestige Crest, and made a lot of money selling the land below the dam. They are afraid that his bill will allow him to do the same in many other places. Evan says he has been "suspended" and isn't allowed to return to the Capital, and besides, God told him to finish the ark by that day.
Rita: God told you to build an ark. But did he tell you to make your friends follow you here so you can make us look stupid? Because I go to church every Sunday. [Evan looks at her with doubt.] Okay, every "other" Sunday…. Well, I've been to church! And that does not sound like God to me.
Just then, Evan's son Dylan says the ark is finished, and the animals start moving in.
Rita (amazed to see the animals move): What in the world? I can't even get my cat to use the litter box.
Ark Reporter: It's September 22nd and we're all still here… awkwarrrd!
Evan: People! The flood is imminent!

Board

the ark! Save yourselves!
17. Congressman Long comes to the ark, and tries to convince Evan to leave. Evan confronts Long about the money he is making from his bill.
Long: I'm gonna give you one last chance. Take down this boat.
Evan: I'm giving you one last chance.

Repent

.
Long: Such a shame. You had possibilities. But you want to stop progress to save the Earth. Go for it. Good luck getting a tree to come to the polls.
18. Evan (frustrated that there's no rain or flood): Is it too much to ask for a LITTLE PRECIPITATION?
Joan: Honey, maybe God didn't mean a literal flood. Maybe he meant a flood of knowledge, or emotion, or awareness.
Evan: If that's true, I am going to be so

pissed

.
==== If you don't want to know the ending, stop reading here! ====
19. Evan: Eugene said that Long

cut corners

on building codes.

Joan: What're you talking about?

Evan: The lake! Long Lake! It's named after him. It's the lake! [He sees the distant dam starting to burst.] Everybody get on the ark now!
Marty: I think we should get on the Ark.
Eugene: I agree. I think we should get on the Ark, also.
Rita: I'm cold, I'm wet, I'm going home. [Then she sees the dam starting to break, and a wall of water comes at them.] Ladies first! Move!
20. Evan (on the Capitol steps): Hello Congressman. Mind if I park my boat here for a little while?
Congressman Chuck Long (stunned): But how?

Evan Baxter: The dam. Your reservoir ruptured. Prestige Crest, it's all gone.

Congressman Chuck Long: No, they said that couldn't happen…. You did this to me. You set me up! You crazy son of a b…

[An alpaca suddenly spits on Long]

Evan: Wow. That is disgusting.

Rita (to the alpaca): If that comes out your front, I don't even want to know what's coming out the back.

[Behind Evan, wolves begin growling lowly; Congressman Long steps back in fear]
Evan Baxter: Don't look now, Congressman, but the wolves are here, although I wouldn't worry so much about these wolves as those.
[Long turns around to face a bunch of angry Congressmen who've heard of his deception.]
21. Evan: You knew all along. Without the ark, my family and neighbors would have been killed. I fought you every step of the way.
God: Yes, but you did it….

You did good, son. You changed the world.

Evan: No, I didn't.

God: Let's see. Spending time with your family, making them very happy. Gave that dog a home. How do we change the world?

Evan (remembering what God had said earlier): One act of random kindness at a time.

God (while writing A-R-K on ground with a stick): One Act… of… Random… Kindness.
Discussion (part 2):
Family. Was Evan a "good dad"? Was Joan a "good mom"? Were the boys "good kids"? Illustrate your opinion with examples from the film.

Talk about Joan. What "strange behaviors" did she see in her husband? What did she do right (when she saw Evan doing these things)? Would you have done anything differently? What did you think about what "God the waiter" said to Joan? Would his comment have changed your mind? Explain.

Humor. Did you like the use of humor in this film? Explain. Director Tom Shadyac told journalists: "Humor is all about healing." He also said: "We like to blame God. [But] God is about healing the anger that humans like to have about God and life." How do humor, healing, and spirituality go together for you?

Virtues

and

vices

. What vices did you see in the people in this film? What virtues did you see? If it helps, talk about these people's vices and virtues: Eugene, Rita, Marty, Long, reporters, neighbors, Joan, Evan, their sons. Did you find yourself in the film? (Which character?)

Love. How many kinds of love did you see in the film? Give examples. What "acts of kindness" did you see in the film?

Evil. Almost all stories/movies present a problem or "evil" and then overcome it. What "evil/problems" were overcome in this film? If Congressman Long had been thinking about others more than himself, what might he have done differently? If you were to create a movie about your campus or city, what "problem" would be important to the story?
Most of us would agree that God does not "appear" to most people like He did to Evan. But we also know that some people have a closer relationship with God than others. Using this film, or your own experience/opinion, talk about why God doesn't "appear" to everyone, why He might choose someone like Evan, and why some people are "closer" to God than others.
In this film, "God" says or implies some interesting things. Comment on each of the following. Do you think they are true?

Why did I choose you? You want to change the world, son. So do I.
Let's just say that whatever I do, I do because I love you.
We change the world by one Act of Random Kindness (ARK) at a time.
There's a deadline. If the ark project isn't finished by then, you will be (finished/dead).
Man plans, God laughs.
People love it when God gets angry.
People think the account of Noah is about God's wrath; I think it's a love story about believing in each other.
Ask and you shall receive.
When someone prays, does God "change them" or give them opportunities to bring about a change?
I've got a lot of people to serve.
Yes, you fought me every step of the way, but you DID what I asked. You did good, son.

It has been said that God wants us to change the world through kindness, but not "random" acts; our kindness should be done on purpose. Think of people who have indeed changed our world through "acts of kindness"; talk about the kinds of things they did. (Examples: inventors/researchers, authors, those who care for the poor, political reformers, religious leaders like Jesus, etc.)

At the end, Evan says that God "knew all along" that the dam would break, and he (sort of) thanked God for saving him, his family and neighbors. If you were God, and you knew that someone's sin (e.g., congressman Long) was going to hurt many people, would you "stop the sinner" or "use others to save some of the victims" (e.g., telling Evan to build a boat)? Explain. [If it helps, think about how highly God values His gift of "free will" vs the natural law that "choices have consequences."]
Explain the ways that Evan's understanding of "who God is" changed during this story. What specific moments were "life changing" to Evan? If you have had a "life changing" moment like this (some call it an "epiphany" or "awakening"), tell us about it. Who is God for you? How do you understand God to be?
How do you want to change the world to make it a better place? Make a list and write A.R.K at the top. Check it each night to see if you practiced A.R.K. (Acts of Random Kindness) today, and think about the good things you can do for others tomorrow.

The Film. What did you like most (or least) about the film? If you had been the director, what would you have done differently and why? Pretend a friend is next to you, and explain what you thought the film was about.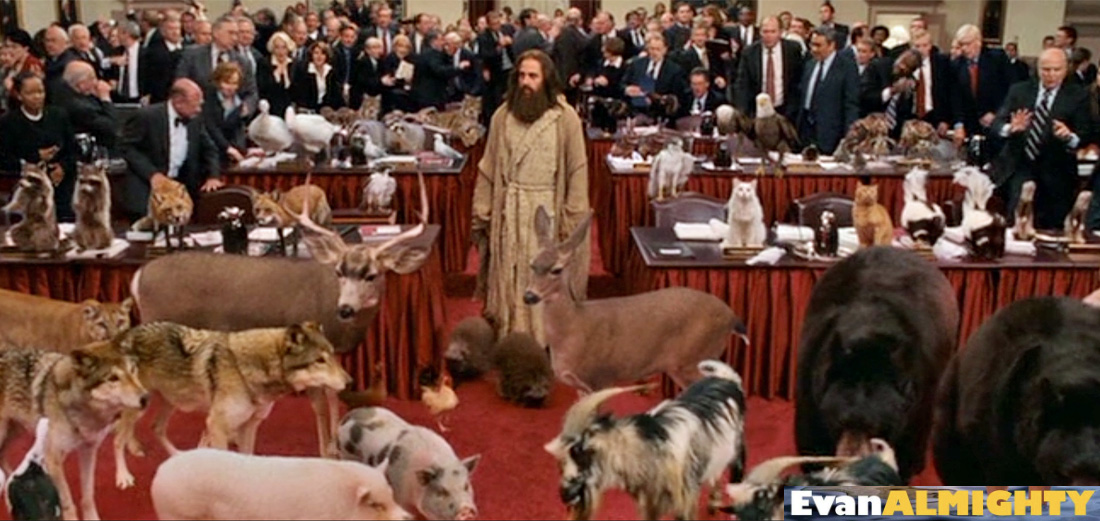 Interesting notes:
Email from Christianitytoday.com presented this list of "discussion topics", with Bible verses to look up about each one:
Listen Up: Keeping an ear out for God's voice.

(Matthew 11:15; Ecclesiastes 5:1; Isaiah 42:18-20; 1 Kings 19:8-13; Psalm 46:10)

Trust and Obey: Even when it seems outrageous.

(Genesis 6:9-22; 22:1-18; Exodus 3:1-4:17; Jonah 1:1-3:10; Acts 9:1-19)

Acts of Random Kindness: Helping others in God's name.

(Galatians 5:22; Luke 10:30-37; Deuteronomy 22:1-4; Matthew 25:34-40; Hebrews 13:2)
---
This looks like an interesting resource: (Many of my discussion questions came from Sister Rose's Study Guide.)
Resources posted at EFLsuccess.com do not imply any consent from or relationship with any web-hosts, universities, on-line services, publishers, producers, etc.
---
EFLsuccess.com; ©Michael Krigline, all rights reserved. Our resources were created for our students under my understanding of "fair use" for educational resources. As far as I am concerned, website visitors are allowed to print/copy these materials for personal or classroom use. For details, see our Website Standards and Use Policy.
~ ~ ~ ~ ~ ~ advertisement ~ ~ ~ ~ ~ ~