Lost Worlds–Life in the Balance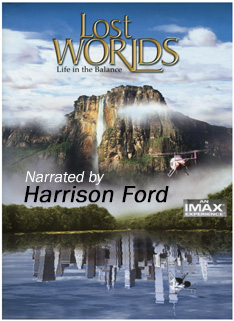 Lost Worlds–Life in the Balance,
 www.EFLsuccess.com
Story: Will wild animals someday freely roam through today's great cities, as they do through the deserted ruins of ancient Tikal? What can we learn from the mistakes of these once-great civilizations? This documentary takes you to places that will surprise you with their beauty and complexity, from the mysterious mountains of Venezuela to the water system under your feet. Because of earth's biological diversity, when we protect nature, we protect ourselves. (Documentary, narrated by Harrison Ford; 40 minutes; Imax; 2006)
Warning: some students are squeamish about the bugs, but it has lots of beautiful scenery

Vocabulary:

(

underlined words are vocabulary terms; *key terms

) 

Green

terms are in part 1.

Sth=something
*

abandoned

: to leave a place without intending to return (often because of safety)
*bellwether: something that indicates future development or trends, like the "lead sheep" (with a bell around its neck) shows the way that all of the sheep that follow it will go
*

biological diversity

: the variety of interconnecting life that keeps things healthy

bromeliad: a type of Central American plant (like orchids and pineapples) with tiny scales on their leaves, allowing them to get nutrition from the air; many bromeliads don't even grow in soil, but grow on rocks, trees, or other plants. However, they are not parasitic (they don't take nutrition from the host) but simply use other things as perches.

carnivorous plants: plants that "eat meat" (i.e., that live by killing animals, instead of by gaining nutrition from the soil)

deforestation

: to clear forests; i.e., to cut down too many trees
*

dense

: tightly packed or close together; concentrated; not sparse ("Compared to the countryside, the city is densely populated.")
dusk: the period after day but before night

ecosystem

: interdependent creatures and the environment they inhabit and depend on

faucet

: the thing that water comes from in your bathroom (also called a tap)

habitat

: the natural conditions and environment in which a plant or animal lives

inhabitants

: those who live in a certain place

jaguar

: a large, spotted cat (like a leopard), mainly found in the forests of the Americas

kelp

: a type of large seaweed, that supports a wide range of living things
*

metropolis

: big city. "Beijing is a densely populated metropolis."
*

nursery

: pre-kindergarten school; a place that helps small children/plants/animals to grow and develop properly ("Kelp is a nursery for spawning fish.")
okay: OK, all right
*pollen: a fine powder produced by flowers, which is carried by the wind or by insects to other flowers of the same type (this process is called pollination), making them produce seeds
*to pollute: to make the environment dirty by dumping waste or smoke into rivers, lakes, or the air
*shallow: not deep, often referring to water or thinking
*resourceful: able to use whatever is available, often in un-normal ways, to achieve a goal ("The soil is very poor, so plants and animals must be resourceful to get the nutrition they need.")
restoration: the process of restoring something or "bringing sth back" that was damaged
to reweave: to weave again; to reconnect complex things, like the way someone makes cloth or clothes by hand

species

: a biology term for organisms that are very similar and that can be bred (put together) to produce plant/animal "children" ("Many species are being driven to extinction.")

watershed

(of a river): the land area that drains into a particular lake, river or ocean
Phrases & proper nouns:
to be "master" of sth: to be the boss; to be in charge of things
to tip the balance of life: to do sth that gives one form of life an unfair or unnatural advantage

the Table Mountains (Roraima):

the unique mountains shown in this film; the Indian name is "tepuis"

Venezuela

: a country in northern South America where you'll find the Table Mountains; 委内瑞拉
Sentences/dialogs from the movie: (part 1)
Blue parts
indicate that they are especially important. (
imdb's website
is a great place to find movie facts and more). All of these are from the Narrator, unless otherwise indicated.
1. It was once the heart of the Mayan civilization, that stretched across Central America: a great city known as Tikal. Its temples were the tallest in the western world; monuments to its kings and architects. For centuries, Tikal grew larger, its science and arts flourished. Then 1000 years ago, at the height of its power, the city was suddenly

abandoned

. What happened in this lost world? What keeps all cities, all civilizations alive, then and now?

2. Eight million New Yorkers drink clean water from the Catskill Mountains, 100 miles away. If New York had to build water purification plants, it would cost billions. Here, nature provides that service, free of charge.

3. Dirt is a world teeming with life; a metropolis much more

densely

populated than the city it serves. Each

ecosystem

shapes its own community of plants and animals.

4. The giant seaweed "kelp" is many things…. it's a nursery for spawning fish, and a food supply for the sea urchin (a spiny creature with a big appetite). Until the 1970s, California urchins were clear-cutting the underwater kelp forest because an animal that belongs here was missing: the sea otter. It had been hunted almost to extinction for its thick coat of fur.

5. Like the kelp forest, the health of the rain forest is maintained by the variety of its inhabitants, as long as the natural balance is undisturbed. Animals can't live without the habitats they are adapted to. …We are changing the world too quickly for animals to be able to change with it.

6. For thousands of years, more than 1/3 of earth's land mass was covered with pristine (unspoiled) forests, full of life. The forests of China and lands around the Mediterranean (sea) were first to be cut…. In the last 50 years, we've cleared more forests than in all our previous history. Less than half of the original forests are left.

7. A priority now is to explore the places with the most unique bio-diversity, where the web of life is still intact. Places like the summit of Mount Roraima, in the Table Mountains of Southern Venezuela. These mountains inspired the novel "Lost Worlds" by Sir Arthur Conan Doyle.
8. Biologist Margarita Lampo: Amphibians like frogs and toads can tell us so much about the health of the places where we live. We are concerned because frog populations are declining.
9. Margarita Lampo: I like the Pemon word for them, "tepuis," but I can see why others have called them the Lost World. We will search for frogs in a place where few people have ever been. I can't believe the beauty of this rainforest. Large predators (like

jaguars

) control the number of mammals, like the coatimundi, so they don't overgraze the fruits and seedlings, or steal too many birds' eggs.
10. Mount Roraima is a biological island, lost in time, eroded by eons of wind and rain.
11. Margarita Lampo: The helicopter pilots don't want to shut off the engine up here, because the weather changes too fast. They have to get out before the next storm, and one is coming fast now. They'll be back with supplies in three days… if they can. I had mixed feelings, watching the helicopter leave. It was like being left alone on another planet, surrounded by images from the dawn of time.
(24:30 is a good place to stop Part 1)
Discussion:
 (part 1)
1. According to the film, long ago 1/3 of all land was covered with pristine (unspoiled) forests, full of life. China's forests (and those of the Mediterranean) were the first to be cut. Why? Why did the speed of

deforestation

increase in the Industrial Revolution?
2. In the last 50 years, we've cleared more forests than in all our previous history. Less than half of the original forests are left. Why? So what (why is this important to us)?
*3.All 

ecosystems

 have a balance that keeps it living. What causes the balance to change? What happens when natural 

biological diversity

 is interrupted? Give examples from the film or from your own knowledge/experience.
4. People love to see places like 

Roraima

, but when they do they create trash and damage the environment. Tourism is a great business. Why? In what ways is tourism a good thing or a bad thing? Give details.
*5. How do we balance tourism and environmental protection? In places like Venezuela, the government does not have the money or personnel to "police" distant areas like Roraima. In China, this could be said for a lot of places. Who is responsible to protect the environment?
Sentences/dialogs from the movie: (part 2)
12. Fabian Michealangali (the team's plant specialist): Most of the summit is bare rock. Plants only grow in depressions where water and soil can accumulate.

If we carefully examine these little islands (of soil) we see that they are laying just like rugs on top of the rock. The soil is mostly sand with very few nutrients, but it still supports an incredible amount of life. Probably, half of it exists only on these mountains.

13.

Some of the plants are carnivorous, trapping and consuming insects.

Some also trap rainwater, where larva and other organisms break down the insect. The plant absorbs the nutrients in the water (such as nitrogen from animal waste).
14.

The water is as poor a food source as the soil. Anything living here has to be very resourceful.

At first, they discovered few amphibians. Then they discovered tadpoles feeding on clusters of unhatched eggs, apparently produced by the mother frog so her offspring would have plenty to eat.
15. Why would nature produce a (unique) tiny toad that walks and rolls instead of jumping? People ask why we should care for creatures like these.

Well, it may have something we need, like new medicine or chemicals, or maybe because it is living proof of nature's ability to diversify and survive in ways we never even imagined.

16. Insects need flowers. Flowers need insects. And we need the food that pollination produces.
17.

In just one square meter, young explorers on a field trip (in a New York suburb) can find a lot of life. If they look hard enough, they'll find things that even scientists haven't seen before.

18. As we take up more and more space on the earth, we may tip the balance of life without even knowing it. It wouldn't be the first time.
19. The lost city of Tikal (Guatemala) was discovered just over a century ago. Experts debate what happened to this metropolis.

New studies suggest that its expanding population stripped away the forests, exhausted the soil, water and food supply, with famine, warfare and collapse not far behind. Did the people of Tikal lose their life support system without ever understanding it?

20. In the cities we think we are the masters of our destiny, but everything that keeps us alive comes from nature.
21. One hundred years ago, NY had the foresight to preserve a critical part of its life support system: the Catskill Mountain forests that clean it's drinking water. Thirty years ago, the ecosystem of California began to restore itself because we had the wisdom to protect the sea otter.

When we protect nature, we protect ourselves.

22. Margarita Lampo: Frogs seem to be a kind of bellwether for the health of the planet. If so, things are okay up here (on Roraima). Will it stay this way?

Maybe our work will help us to understand the world we have, and the world we have to lose.

23. Harvard University Professor Edward O Wilson: "What could be more inspiring than to begin the age of restoration, reweaving the wondrous diversity of life that still surrounds us?"
Discussion: (part 2)
6. What keeps all cities and civilizations alive, then and now? In modern cities, it is easy to take a lot of things for granted. Give examples.
*7. "When we protect nature, we protect ourselves." How is this true? Give examples. Why should we care about tiny frogs or other odd creatures? Why do you think this expensive documentary was created?
8. What happened to the "Lost Civilization" of Tikal? Why did such an advanced city disappear? See quote 19. In what ways are we

masters

, and in what ways are we utterly dependent upon nature?
9. To what extent does modern technology allow us to "

tip the balance

" of nature without serious consequences? How is technology an asset and how it is a liability to civilization? If Tikal had our technology, might it still exist? Explain your answer.
10. It is always cheaper for a business to pollute, and for an individual to be lazy, than it is to care about the environment. In our day, it is cheaper to throw many things away and then buy new ones (e.g., plastic bottles, mobile phones), than it is to fix or reuse them. What implications does this film have concerning the development of your country? What should happen in your country, to protect the balance of nature?
---
Resources posted at EFLsuccess.com do not imply any consent from or relationship with any web-hosts, universities, on-line services, publishers, producers, etc.
---
EFLsuccess.com; ©Michael Krigline, all rights reserved. Our resources were created for our students under my understanding of "fair use" for educational resources. As far as I am concerned, website visitors are allowed to print/copy these materials for personal or classroom use. For details, see our Website Standards and Use Policy.
~   ~   ~   ~   ~   ~  advertisement  ~   ~   ~   ~   ~   ~