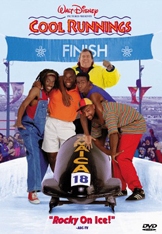 Cool Runnings,
www.EFLsuccess.com
Story: Celebrate the Olympic spirit with this Disney classic, based on the true story of the first bobsled team from the Caribbean (1988 winter Olympics in Calgary, Canada). Everyone laughs when a disgraced coach takes on the challenge of bringing a winter sport to sunny Jamaica. But see who gets the last laugh when team spirit and a healthy self-confidence turn disaster and disagreement into Olympic pride. "Cool runnings" is a Jamaican phrase which, according to the movie, means "Peace be the journey."  (1993; Disney; sports/comedy/history; 1:38)
Note 1: This will help you understand the tension: Blitzer, who becomes the Jamaicans' coach, cheated to win the Olympics when he was an athlete 20 years earlier (1972 Olympics). He had added weights to the sled, and when discovered ("busted") the team had gold medals taken away. He was so ashamed that he left his country—the US—and moved to Jamaica (to be near a friend), to get as far away as possible from winter sports. Now, Blitzer's old teammates are US coaches, and his former coach is now a judge in the Calgary Olympics.
Note 2: Now, the winter and summer Olympics are two years apart. Back when this story happened, the winter Olympics were a few months after the summer games.

People and proper nouns:
Derice Bannock: Jamaican track star (fast runner), and son of former Olympic runner
Joy Bannock:  Derice's wife
Sanka Coffie: Derice's best friend; champion push-cart driver
Momma Coffie: Sanka's mother

Yul Brenner: Jamaican track star, who is desperate to "get off this island"

Junior Bevill: fourth member of bobsled team; when he tripped in track meet, it disqualified Derice and Yul.

Mr Whitby Bevil, Sr: Junior's wealthy, domineering father

Irwin (Irv) Blitzer: Bobsled coach; former Olympic medalist

Mr Coolidge: Jamaica Olympic Committee official
Vocabulary:
(
underlined words are vocabulary terms; *key terms
).
Brown
indicates "part two."
80 miles per hour=133 kilometers per hour (speed of a bobsled)

bobsled: a small vehicle with two long thin metal blades instead of wheels, that is used for racing down a special ice track

bookie (bookmaker): someone who collects bets (money that people want to risk on the result of a race, competition, etc), pays the winners, and makes money in the process.

cold weather endurance: the ability to continue working in a very cold place in spite of difficulty or pain, over a long period of time

intrepid

: willing to do dangerous things or go to dangerous places – often used humorously

line dancing

: a type of dancing–people dance in lines, all following the same series of steps

roller coaster: a track with very steep slopes and curves, which people ride on in small carriages at fairs and amusement parks

sarcastic (sarcasm): saying things that are the opposite of what you mean, in order to make an unkind joke or to show that you are annoyed

snickering (AmE): to laugh quietly and in a way that is not nice at something which is not supposed to be funny  (BrE: snigger)

zigzag (noun, verb or adj): to move forward (and esp down a hill) in sharp angles. (In the movie, the coach says "You'll be ziggin' and zaggin'.")
Sentences & expressions from the movie:
"He ran the 100-meter in ten flat; I run it in nine-nine." That is, exactly ten seconds, versus 9.9 seconds.

"If I don't have what it takes, we'll forget the whole thing." That is, if I don't have the qualities that are needed for success, I will stop asking for your help and won't enter the race.

"Oh, goody." ("goody" is a word used by children to express pleasure or excitement; it's used here sarcastically to show that sb is not happy with a comment or situation)

"Do you dig where I'm coming from?" (slang) That is, do you understand my position, perspective and/or requirements?

"They're going to turn some heads." If something turns people's heads, they are surprised by it.

"Rise and shine!" Often used humorously to tell someone to wake up and get out of bed.

"How about if I whip your butt." & "It's butt-whipping time!" (slang) to "whip/kick sb's butt" means to punish or defeat them severely

"He put weights in the front

to make it faster, and they took away our gold medal." That is, he cheated by changing the sled against the rules; the officials found out and disqualified his team and their first-place time.

"You choked."

Literally, to choke is to be unable to breathe because something is blocking your throat; figuratively (as here) it means to fail at doing something, especially a sport, because there is a lot of pressure
Dialogs & expressions from the movie (part 1):
Dialogs mostly from IMDB https://www.imdb.com/title/tt0106611/quotes/?ref_=tt_trv_qu. Some dialogs are abbreviated. Blue indicates key dialogs.
1.  [Pre-race cheer at push-cart race]
     Kids: Who's the captain of our crew? Who's a friend to me and you? Kinda nice, good-looking too! Sanka, Sanka, yay, Sanka!
     Sanka Coffie: Ha ha ha! Get back to work!
     Derice Bannock: Who's the big hot bag of air, who doesn't have to comb his hair? Who doesn't bathe and doesn't care, Sanka, Sanka, yay, Sanka!
2.  [Joy and Momma Coffie sit in the stands as they wait for Sanka's pushcart race to begin. Derice comes along, and stands next to Joy. Joy kisses him]
     Joy Bannock:  Derice, is Sanka ready?
     Momma Coffie: Ready? That boy's never ready! He's a lazy, sorry, no-good bag of bones.
     [Derice and Joy laugh loudly at Momma Coffie's statement, thinking that she's just joking]
     Momma Coffie: [seriously] So what ya laughing at?
3.  Sanka Coffie: I love Jamaica – and Jamaica loves me!
4.  [repeated lines]
     Derice: Sanka you dead?
     Sanka: Yeah, man. [sounds like "Ya, mon"]
5.  Derice: I can't believe the trials are finally here.

     Joy: You nervous?

     Derice: I'm not nervous. I'm ready. I've been ready for this day my whole life. I don't care how fast they run, I'm going to run faster. I don't care how much they want it, I want it more. I'm going to the Olympics, baby. I feel it. I'm going to win the gold.

     Joy: Derice, are you nervous?

     Derice: I'm terrified.

6.  Coolidge (Olympic official, making announcement): I want to remind you that only the top four finishers will earn the right to represent Jamaica in the forthcoming summer games in Seoul, Korea.

     

[During the race, Junior trips and disqualifies Derice and Yul. Later, Derice is in Coolidge's office, complaining that it wasn't fair. He also sees a photo of his own father, who was an Olympic champion.]

     

Coolidge: Look, Derice. Let it go, will you? Let it go. You'll have another chance in four years.

     

Derice: Mr. Coolidge, who is the other man in the picture with my father?

     

Coolidge: Irving Blitzer. He's an American who lives here. Unless, of course, he's been arrested or shot.

     

Derice: Excuse me?

     

Coolidge: Well, he's a bookie now. Takes his bets in a small pool hall just past Sandy Bay.

     

Derice: Isn't that a gold medal around his neck?

     

Coolidge: Oh, yeah. That lunatic was an Olympic bobsledder who tried to get your father to switch sports. He had some theory about using track sprinters to push the bobsleds. Some ridiculous thing like that. Can you imagine a Jamaican bobsledder?
7.  Sanka: [Reading a book] The key elements to a successful sled team are a steady driver, and three strong runners to push off down the ice. Ice? Ice!

     

Derice: Well, it's kind of a winter sport, you know.

     

Sanka: You mean winter, as in ICE?

     

Derice: Maybe.

     

Sanka: You mean winter, as in igloos and Eskimos and penguins and ICE?

     

Derice: Possibly.

     

Sanka: See ya.

     

Derice: Where you going?

     

Sanka: I'm going to take a hot bath, I'm getting cold just thinking about all this ICE.
8.  Derice: Hey, man, you could be famous. You could have your picture on a Wheaties box. But you said "no," and that's all right, because I don't need you. Everybody is going to want to be on my bobsled team!

     

Sanka: Look, Star. Let me tell you a little something, alright? When you need something from me, you don't have to hand me a bunch of lines. All you have to do is look at me in the eye and say, "Sanka, you are my best friend, we've been through a whole heap together, and I really, really need you."

     

Derice: Sanka, you're right. And you are my best friend. We've been through a whole lot together.

     

Sanka: "Heap, heap!"

     

Derice: Sorry, man. Whole heap together.

     

Sanka: "And I really, really need you."

     

Derice: And I really, really need you.

     

Sanka: [nods head slowly, then] … Forget it! [pause] 

Alright. Alright, alright, alright, man. So, let's talk about this bill-sled team.

     

Derice: No, bobsled team.

     

Sanka: Whoever. Now, about the Wheaties box. I'm gonna be on it myself, right?

     

Derice: No, man, you gonna be on it with me.
9.  Sanka: [after witnessing Irv obliterate a radio with a pool cue] That guy won two gold medals?
10. Derice: Excuse me. Are you Mr. Irving Blitzer?

     

Irv: Well, that depends on who's asking.

     

Derice: My name is Derice Bannock, and this is my teammate, Sanka Coffie.

     

Sanka: Greetings, sled god.

     

Derice: We were wondering if you would be interested in coaching the first Jamaican bobsled team.
11. Irv: All right, Derice. Let me lay out some difficulties for you. Snow: you don't have any. It's nine hundred degrees out there. Time: you don't have any. The Olympics are in three months. And me: you don't have me. As far as I'm concerned, the sport of bobsledding no longer exists. I don't want to do it, I don't want to coach it, and most of all, and I mean most of all, I don't want to be within two thousand miles of anybody who does. Now did you follow all that?
12. Irv: [looking at a 20-year-old picture of himself and Derice's father, both wearing Olympic medals] Wow, would you look at me then? [Turns the frame and sees his reflection in the glass] Oof, would you look at me now?

     

Derice: Please, Mr. Blitzer, just give me a chance.
13. Irwin: Gentlemen, a bobsled is a simple thing.

     

Man: Yeah, so's a toilet!

     

Irv: [After watching some bobsled crashes]…Oh, yeah, one minor drawback to this delightful winter sport is the high-speed crash. Ooh! That hurt. Always remember, your bones will not break in a bobsled. No, no, no. They shatter.
14. [Yul has some repeated lines, or things he says to show that he is not friendly]

     

Yul: Don't touch me!

     

Yul: Remember, this doesn't mean that I like you.
15. Yul: [to Sanka] You're crowding me, slinky head.

     

Junior: Slinky head. That's a good one!

     

Yul: Listen, if it wasn't for you, rich boy, I'd be in the Olympics right now.

     

Sanka: I don't know what you are arguing about, because Derice was gonna beat both of your butts anyway.

     

Yul: What are you talking about? How about I beat your butt right now?

     

Sanka: How about I draw a line down the middle of your head so it looks like a butt?
16. Sanka: I'm the driver.

     

Irv: You're not. You're the brakeman.

     

Sanka: You don't understand, I am Sanka Coffie, I am the best pushcart driver in all of Jamaica! I must drive! Do you dig where I'm coming from?

     

Irv: Yeah, I dig where you're coming from.

     

Sanka: Good.

     

Irv: Now dig where I'm coming from. I'm coming from two gold medals. I'm coming from nine world records in both the two- and four-man events. I'm coming from ten years of intense competition with the best athletes in the world.

     

Sanka: That's a hell of a place to be coming from!

     

Irv: You see Sanka, the driver has to work harder than anyone. He's the first to show up, and the last to leave. When his buddies are all out drinking beer, he's up in his room studying pictures of turns. You see, a driver must remain focused one hundred percent at all times. Not only is he responsible for knowing every inch of every course he races, he's also responsible for the lives of the other men in the sled. Now do you want that responsibility?

     

Sanka: I say we make Derice the driver.

     

Irv: So do I, Sanka. So do I.
17. Irv: Winning a bobsled race is about one thing: the push-start. Now I know you dainty, little track-stars think you're fast. Well, heh, let's see how fast you are when you push a six-hundred pound sled. Now a respectable start-time is five-point-seven seconds. If you speed demons can't whip off an even six flat, you have a better chance of becoming a barbershop quartet.
18. Irv: This is what it's all about, this is whether you win or lose the race, right here in the push start! This is where you're gonna practice, right here, right here in a Volkswagon!
19. Mr Bevil, Sr: I got you a job with Webster, Webster and Cohen, the biggest brokerage house in Miami!
     Junior Bevill: Oh right. Webster, Webster and Cohen.
    Mr Bevil, Sr: Yes! That's right. And you start end of the month.
     Junior: Yes, but I thought that I would.
    Mr Bevil, Sr: Look we went along with this track nonsense long enough. And we agreed that it's time to get on with your real future. Right?
     Junior: I know.
    Mr Bevil, Sr: Right?
     Junior: Yes sir.
    Mr Bevil, Sr: Good. I'm going to tell your mother. I guess we sure told him.
20. Sanka: 'Nuff people say, you know they can't believe, Jamaica, we have a bobsled team. We have the one Derice…

     

Derice: And the one Junior…

     

Junior: Yu-  

[Yul gives him a "don't even think about it" look]

     

Junior: … Sanka!

     

Derice: The fastest of the fastest of Jamaican sprinters…

     

Sanka, Derice & Junior: Go to Olympics, fight for Jamaica!
21. [the team emerges from the airport into a blizzard; sign says -25degrees]

     

Derice: [Derice sees Sanka's breath in the cold Calgary air] Sanka man, whatcha smoking?

     

Sanka: I'm not smoking, I'm breathing!

     

Irv: What's the matter? Are you guys cold? It's not so much the heat, it's the humidity that'll kill you.
22. Irv: Hi, I'd like to register for the tryouts.

     

Registration Official: What country?

     

Irv: Uh… [clears throat] Jamaica.

     

Registration Official: [smiles] What country?

     

Irv: JAMAICA.

     

Registration Official: [stops smiling and enters the information] Huh, what do you know? A Jamaican bobsled team.
23. Roger: Is this whole thing a big joke, or do you really expect these Jamaicans to qualify?

     

Irv: Not only are they going to qualify, they're going to turn some heads doing it. Listen, three of these guys can run the hundred in under ten-flat. I don't care who you are, that's lightning.

     

Roger: Yeah, but can lightning run on ice?
24. Sanka: All right, you sugar-coated track stars! Move out and let the ice rasta show you how it's done.
25. [before their first practice run]

     

Yul Brenner: [the guys start climbing into the bobsled] Don't touch me!

     

Sanka Coffie: Hey, Baldie, get off my foot!

     

Yul: Don't touch me!
26. Sanka: You want to kiss my lucky egg? [holds the egg in front of Yul's face]

     

Yul: [looks at the egg, disgustingly] I'm not kissing no egg.

     

Sanka: Suit yourself. [kisses the egg]

     

[Other athletes make fun of the Jamaicans]

     

Junior: Seeming to you like nobody likes us?

     

Yul: We're different. People are always afraid of what's different.

     

Josef: Hey, Jamaica! Watch out for Number Twelve turn. Scary, ja?

     

Derice: What's his problem?

     

Irv: He's Josef Grool. He's one of the best drivers in the world.

     

Yul: Yeah, he's one of the biggest ASSHOLES in the world, too.

     

[After some last-minute coaching…]

     

Sanka: Coach! Coach! I can't get my helmet on! [Irv smashes helmet with fist] Thanks coach!

     

Irv: That's what I'm here for.

     

Sanka: Oh, wait. Coach, I gotta go. You know?

     

Irv: Hold it.

     

Sanka Coffie: Hold it?

     

Irv: Yeah, hold it!

     

Sanka: But, Coach, I can't hold it. We're not bobsledding yet.

     

Irv: Oh, yes we are. [he pushes them off]

     

Sanka: Coach… Coach!

     

[the bobsled picks up speed as it goes down the track]

     

Sanka: Coach! COACH! Aaahh! Slow it down! Slow it- slow it down! Oh, my God! Oh, Derice, oh, Derice I hate you! I hate you! I hate you!Part 1 ends at 48:46 just after Sanka's line.
Discussion (part 1):
Think about what happened during the track race and how Derice said it wasn't fair. American children like to complain "That's not fair" when they think a sibling or classmate is getting special treatment. How would you answer Derice, or a child?
"Note 1" and dialog 11 tell us the main reasons why the Coach didn't want to help Derice and his teammates. If you had "failed" in the big way that Irv had failed, what would it take to convince you to get involved again?
Derice said he "has what it takes" to win in the Olympics. What does "it take" to be an Olympic champion?
What were the various forms of opposition this team experienced? What do you do to overcome opposition or difficulties?
Talk about the relationship between Junior and his Father. At the end of Part 1, his Father believes his son is working in Miami, not in the Olympics. How would feel if you were the father? Give Junior some advice about this relationship. ("Role-play" if you wish.)
In part 2, the Coach will tell Derice: "A gold medal is a wonderful thing. But if you're not enough without it, you'll never be enough with it." Do you agree with this Coach's statement? Why or why not?
Dialogs Part 2:
27. Sanka: What I am saying to you, is that you are the kind of club-toting, raw-meat-eating, Me-Tarzan-You-Jane-ing, big, bald bubblehead that can only count to ten if he's barefoot or wearing sandals.
     Yul: Say whatever it is that you want 'cause you're just like every other fool on the island. You're going nowhere, Sanka, and you're thrilled to death about it. But you see me? You see me? I'm different, 'cause I know exactly where I'm going and after I, Yul Brenner, win the Olympics and become famous I'm going to leave the island and live right down there. [Pulls out picture of Buckingham Palace, and Sanka starts laughing.] What are you laughing about? What are you laughing about?

     Sanka: That's Buckingham Palace. You plan on living there, you're going to have to marry the Queen.

     Junior: Yul, that's where the Queen of England lives.

     

Sanka: Face it, Yul Brenner you can start calling yourself Madonna but you're still going to end up in an outhouse shanty like every other dock working nobody.

     

Junior: Mm, says who?

     

Sanka: Says me, rich boy. What do you know about it?

     

Junior: Well, I know my father started off in a one room hut. Now he lives in one of the biggest homes in Kingston.

     

Sanka: Well, he ain't your father.

     

Junior: He doesn't have to be. All he has to do is know what he wants and work hard for it. And if he wants it bad enough, he'll get it. Look, believe me, Sanka the more Yul Brenners we got making it in this world the better off this world will be, especially for Jamaicans. Go ahead, Yul Brenner. Go get your palace.
28. [Yul and Junior are in the hotel room, getting ready to go to a bar; there's a knock on the door. Yul goes to open it, finding Sanka dressed in a maid's uniform, carrying a feather duster]

     Sanka: Maid Service, sir! Would you like your bed turned down? Mint? Perhaps I could dust your head!

     Yul: Whatever is wrong with you is no little thing.

[Yul closes the door, and speaks to his roommate, Junior.] Hurry up, man. I have a dead grandmother that moves faster than you.

     [Junior gets a telegram from his angry father, who just found out that Junior lied to him and didn't say anything about being on the Olympic team. The telegram says his son must come home right away.]

29. [At the bar, Sanka is learning to line dance, while Junior struggles about how to answer his father. After Josef tries to start a fight, Yul takes Junior to the men's room for a pep talk] 

     Yul: Look in the mirror, and tell me what you see!

     Junior: I see Junior.

     Yul: You see Junior? Well, you wanna know what I see? I see pride! I see power! I see a bad-ass mother who don't take no crap off of nobody!

     [After a few moments, Junior marches up to Josef Grool and spins him around]

     Junior: Now, you look! I will not be talked to that way! So you'd better come up with a damn good apology or else!

     Josef: Or else what? [pokes Junior in the chest] Huh, Jamaica? "Or else" what? [He pushes Junior to floor and then gets down in his face] Come on, Jamaica say something!
     Yul: [Now standing over Junior and Josef.] No problem, man.
     [Yul punches Josef Grul in the face; the whole bar then goes crazy with fighting]
30. Derice: You don't see the Swiss team fighting, do you? You don't see the Swiss team drinking and carrying on and such.

     Sanka: And you don't see the Swiss team smiling neither. In fact, if one of those Swiss boys ever come across a pretty girl, he probably yell, "eins, zwei, drei" and try to push her down some ice.

     [The three who had been fighting are laughing and snickering, when Coach Irv walks in]

     Irv: [Very upset] I took care of the whole thing. I told the owner of the bar that these guys were mentally disturbed, so he's not going to press any charges.

     Sanka: Yeah! Sled god does it again!

     Irv: Just shut up, Sanka. 

Now maybe you haven't noticed, but we aren't exactly winning any popularity contests here. They hate me, they hate you, they hate us. Now, if we're even gonna think about qualifying, we're each gonna have to sit down and take a nice, deep look inside. I didn't come all this way to get my butt whipped!

31. Sanka: Rise and shine!

     Derice: It's butt-whippin' time!

     [We see the team practicing and exercising, while the music says "Rise above it."]

32. [Irv gives them their Olympic outfits before the qualifying run. But at the last minute one judge gets sick so Irv's old coach—who understandably hates him—is the replacement judge. The "Alliance" also changed the rules, shortening the maximum time from 1.2 minutes, to a minute flat (1.0).]
33. [After they qualify to compete, they get the bobsled painted in Jamaica colors. They soon start "toasting" each other with Coke bottles.]

     Sanka: Nobody had that much fun in a sled since Santy Claus.

     Derice: Fellas, here's to followin' your dreams.

     Yul: [as they clink bottles] Yes, man. Follow your dreams.

     Irv: I said it to your father and I'll say it again: sprinters make the best bobsledders.

     Derice: Here's to sprintin'!

     [They clink bottles again]

     Sanka: So what are we gonna name the sled?

     Junior: How about "Tallulah?"

     Sanka: Tallulah! Hahaha! Tallulah! Sounds like a 2 dollar hooker! Where you come up with that?

     Junior: That's my mother's name.

     [All, embarrassed, say it is a good name…]

     Sanka: So what's it gonna be, star? What are the people gonna be screamin' when Jamaica takes the hill?

     Derice: I say we call it – "Cool Runnings."

     [All voice agreement, and Irv asks what it means.] 

     Derice: "Cool Runnings" means "Peace Be The Journey."

34. [Then a messenger delivers a letter, saying the team has been disqualified. The "Alliance" changed the rules again, saying that a team had to be in competition before the Olympics. Irv—quite upset—goes to talk to the Alliance. Irv wants to know why they were disqualified.]

     Olympic Official: We must also be concerned about the potential for embarrassment.

     Irv: Oh, forgive me. I didn't realize that four black guys in a bobsled could make you blush. Come on, Kurt, what you're doing is wrong, and you know it! Now if this is about you and me, then let's get it straight right now. All right, sixteen years ago, I made the biggest mistake of my life: I cheated. I was stupid. I embarrassed myself, my family, my teammates, my country, [pointing to Kurt] and my coach. If it's revenge you want, take it. Go ahead, disqualify me, banish me! Do whatever you want, but do it to me! It was me who let you down, Kurt! It wasn't my guys! They've done everything you've asked of them! And they did it with all of you laughing in their face. Hey, it doesn't matter tomorrow if they come in first or fiftieth. Those guys have earned the right to represent their country. They've earned the right to march into that stadium and wave their nation's flag. That's the single greatest honor an athlete can ever have. That's what the Olympics are all about. Sixteen years ago I forgot that. Don't you go and do the same.

35. [The Alliance changes its mind and allows the Jamaicans to compete. They move into the dorm for Olympic athletes. Then the coach gives a little "prayer" to inspire them. (Frankly, I think this is

very offensive

because it misuses a prayer from the Bible, but Irv thinks it is funny.)]

     Irv: Our Father, who art in Calgary, bobsled be thy name. Thy kingdom come, gold medals won, on Earth as it is in turn seven. With liberty and justice for Jamaica and Haile Selassie. Amen.

36. [Junior's father comes to bring him back home.]

     Junior Bevill: Father, when you look at me, what do you see?

     Mr Bevil, Sr: I don't have time for games. Junior.

     Junior: Tell me what you see, please!

     Mr Bevil, Sr: All right, I'll tell you what I see. I see a lost little boy, who's lucky to have a father who knows what's best for him.

     Junior: No, no, no, no, you don't know what's best for me, Father. I am not a lost little boy, Father. I am a man, and I'm an Olympian. I'm staying right here.

     Yul [who had seen this conversation, and wants to encourage his teammate]: Junior Bevil. You're a bad-ass mother.
37. [Derice pounds on his teamates' helmets]

     Sanka: Hey! Hey! What you doing?

     Derice: This is what the Swiss do to psyche themselves up!

     Sanka: They also make them little pocket knives, too, but I don't see you doing that!

38. [Their first Olympic run was pretty bad. Afterward, the coach is talking to them.]
     Irv:

You choked. It was yours for the taking and you choked…

. You are ready. But you had all better figure out how to stay loose out there. That's something I can't help you with.

     [Irv leaves and the men keep talking.]

     Derice: You know, when the Swiss want to get…

     Sanka: Ah, will you shut up about the damn Swiss! I mean, it was all that "eins zwei drei" nonsense that got us all nervous in the first place.

     Derice: Hey, man, look here, I'm just trying to get us off on the right foot.

     Sanka: Well, the right foot for us is not the Swiss foot. I mean, come on, Derice, we can't be copying nobody else's style. We have our own style.

     Derice: Kissing an egg is no kind of style. It's the Olympics here, it's no stupid push-cart derby.

     [Long pause]

     

Sanka: Let me tell you something, Rasta, I didn't come up here to forget who I am and where I come from.

     Derice: Neither did I. I'm just trying to be the best I can be.

     Sanka: So am I, and the best I can be is Jamaican. Look, Derice, I've known you since Julie Jeffreys asked to see your ding-a-ling, and I'm telling you as a friend… if we look Jamaican, walk Jamaican, talk Jamaican and IS Jamaican, then we sure as hell better bobsled Jamaican.

39. [They decide to start with a new cheer, instead of copying the Swiss.]

Sanka: Feel the rhythm! Feel the rhyme! Get on up, its bobsled time! Cool Runnings!

40.

Derice: Hey, Coach.

     Irv: Yeah?

     Derice: I have to ask you a question. But you don't have to answer if you don't want to. I mean, I want you to, but if you can't, I understand.

     Irv: You wanna know why I cheated, right?

     Derice: Yes, I do.

     Irv: That's a fair question. It's quite simple, really. I had to win. You see, Derice, I'd made winning my whole life. And when you make winning your whole life, you have to keep on winning, no matter what. You understand that?

     Derice: No, I don't understand. You won two gold medals. You had it all.

     Irv: Derice, a gold medal is a wonderful thing. But if you're not enough without it, you'll never be enough with it.

     Derice: Hey, coach… how will I know if I'm enough?

     Irv: When you cross that finish line, you'll know.

41. [On the final day, Jamaica is in sixth place, less than 0.5 seconds slower than the leader. The Jamaican official who didn't support them is also with a crowd in Jamaica, watching on TV. The TV announcer says that many people, including themselves, have "Jamaica fever," hoping that this team wins a medal. They are even wearing "Jamaica bobsled team" tshirts.]

     

Momma Coffie: Everybody shut up! My boy's on TV.

     

Yul [to Sanka]: Hey, Dreadlocks! Let me kiss your lucky egg!

     

TV announcer:

With the kind of push-starts these guys are capable of, we might actually see the Jamaicans win an Olympic medal.

… Oh, what the heck. Go, Jams!
Discussion (part 2):
What "life lessons" are illustrated in this movie? E.g., Irv showed that a personal failure does not need to rule the rest of our lives; we can 'rise above it.'
Many things are important in sports. List the things you saw illustrated in the movie. For example:

Persistence

: The athletes had to ask many times before Irv agreed to coach them.
With a partner, choose the three most important things from the list we just created.
Did this team win any Olympic medals? Is that important? Why or why not?
Look back at the list from question two. Which of these things are also important to learning a language? What other things would you add to this language-learning list?
In relation to learning English, what do you (personally) need the most from this list? Why?
In addition to this list, what are some other way that learning a sport is similar to learning a language?
PS: A 2022 ESPN article said that the Jamaican bobsled team achieved some success in the first few Olympics after the one shown in the film (1988), including "a surprise 14th-place finish" in 1994. But then they couldn't race fast enough to "qualify" from 1998 to 2022. In 2022, Jamaica qualified with a 4-man bobsled, a 2-man bobsled, and a 1-woman monobob. The men came in last place; the woman next-to-last. Chris Stokes was a member of the 1988 team, and in 2022 was president of Jamaica's bobsled federation; in 2022, he said the team will keep pushing hard, in hope of being on the medals stage by 2030. You can read the article here:
https://www.espn.com/olympics/story/_/id/33312283/winter-olympics-2022-jamaican-bobsled-team-embraces-cool-runnings-sights-set-more-movie-references
(Sample answers to discussion-part2 questions):
2. persistence, hard work, equipment & tools, a coach, support from friends & family (and fans), money, commitment, teamwork & communication with teammates, strength & speed, opportunities to train or practice, focus
6. Almost all of them. Strength and speed are not important but these are similar to a good memory
7. Both are about developing a human (not building a machine, writing a book, etc.). We can be encouraged by all the people who were just like us, but who achieved greatness in sports or in second language ability. Given the right equipment and training, we can also develop this skill. We are not trying to do something impossible. And while competition can show how good we are, the most important thing about competition is that it makes all the competitors better, not just the winners.
---
Note to teachers: To give time for discussion, I use two full class days (4 hours). Day one: preview the vocabulary, show almost half of the film, and discuss it. On the second day, role-play the key dialogs, finish the film, and discuss the film.
---
Resources posted at EFLsuccess.com do not imply any consent from or relationship with any web-hosts, universities, on-line services, publishers, producers, etc.
---
Original materials on EFLsuccess.com ©Michael Krigline, some rights reserved. Our resources were created for our students under the understanding of "fair use" for educational resources. As far as we are concerned, website visitors are allowed to print/copy these materials for personal or classroom use. For details, see our Website Standards and Use Policy. We also encourage you to visit Michael's inspirational website: wp.krigline.com.