Christmas Candy Canes (classic)
Article: Christmas Candy Canes
©Michael Krigline, MA (2015), EFLsuccess.com⇔
A brief introduction to Christmas Candy Canes (拐杖糖)⇔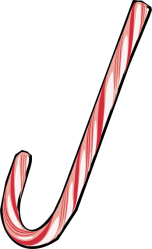 Perhaps you've seen candy canes hanging on a Christmas tree, or used as a Christmas decoration. This tasty treat has an interesting history.
According to legend, an English candy maker in the 1700's created the candy cane to express his faith at Christmastime.
Since Christmas is the celebration of Jesus Christ's birthday, he chose white to symbolize the purity of this holy child. The original flavor was zesty peppermint, chosen for its strength (a big spoonful flavors 50 kg of candy!), and to recall the spices given to the baby Jesus by visiting Wise Men. The candy maker wrapped a wide red stripe into his creation to represent the sacrifice of Christ (whose "blood" made forgiveness and a relationship with God possible). Next, he added three smaller stripes to represent the Trinity (God the Father, Son and Holy Spirit). Finally, he bent the candy to shape the first letter of Jesus' name. Upside down, the candy cane looks like a shepherd's "crook" (or stick)—reminding us of both the shepherds in the Christmas story and of Jesus, the "Good Shepherd." The "J" shape also allowed candy canes to be hung from Christmas trees, which may also be why it has been a popular Christmas symbol and treat for over 200 years!
Today, you can find candy canes in many colors and flavors, but my favorite will always be the "original design," which is not only delicious, but also reminds me of the unique and enduring way that a common candy-maker expressed his faith at Christmastime.
時至今日,你可以看見各種顏色和口味的手杖糖果,但你知道它的「原初設計」是怎樣的嗎?根據傳說,1700年代一位英國糖果製造商新製了一種手杖糖果,在聖誕期間表達他的信仰。由於聖誕節是慶祝耶穌的降生,所以選用了白色,象徵聖嬰的純潔。最初的手杖糖果帶着濃烈的薄荷味,唯其濃烈,才會使人憶起來朝拜耶穌的智者所贈的香料。糖果製造商以粗紅間條包裹糖果,象徵耶穌的寶血使我們的罪得赦,三幼間條則代表聖父、聖子、聖靈三位一體。最後,糖果的形狀扭成"J"形,就是"Jesus"(「耶穌」)的首字母。把它倒過來,又像一支牧羊杖,寓意聖誕故事中的牧羊人。而"J"形的糖果又容易懸掛於聖誕樹上,這是它在過去二百年成為流行聖誕象徵的原因!
When we give out this candy, we like to attach a simple introduction. Two copies can be printed on A4 paper if you use the following file/picture.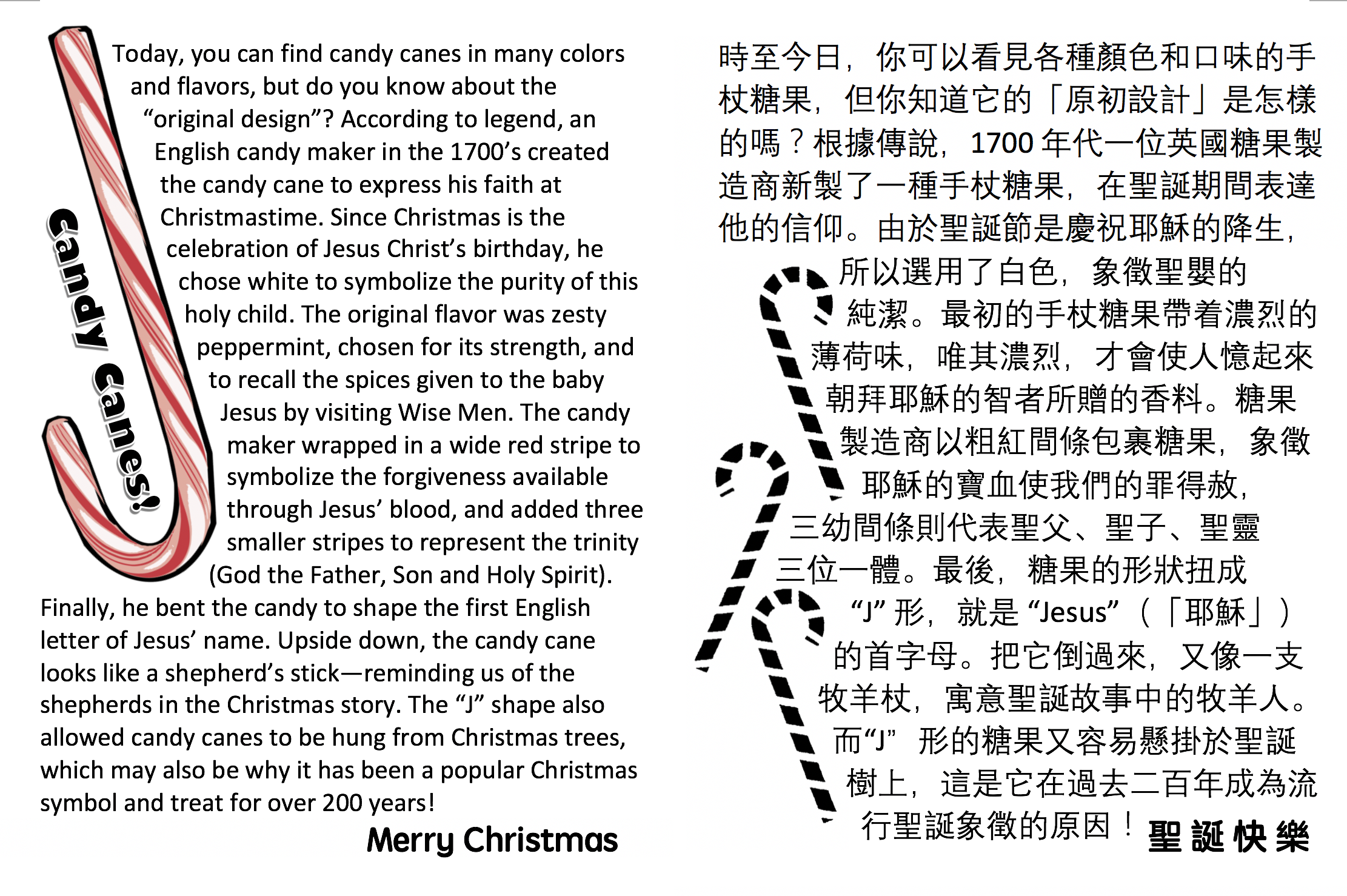 PDF file: Candycane A4 bilingual
(For more information about Christmas, see these Christmas pages (underlined topics are on EFLsuccess.com or Krigline.com; others are on our older website): Christmas (international celebration), the song "Silent Night" and Chinese Christmas apples, the traditional Christmas story, who is Santa (圣诞老人)?, candy canes, Christmas Perspectives (poem), and the pre-Christmas Advent season. Also look for Christmas wallpaper on our old website. You'll also find movie study guides on this website (or our old site) for some great holiday films: A Snoopy/Charlie Brown Christmas, Last Holiday, White Christmas, The Grinch, Christmas Carol, It's a Wonderful Life)
---
EFLsuccess.com; ©Michael Krigline, all rights reserved. Our resources were created for our students under my understanding of "fair use" for educational resources. As far as I am concerned, website visitors are allowed to print/copy these materials for personal or classroom use. For details, see our Website Standards and Use Policy.
~   ~   ~   ~   ~   ~  advertisement  ~   ~   ~   ~   ~   ~